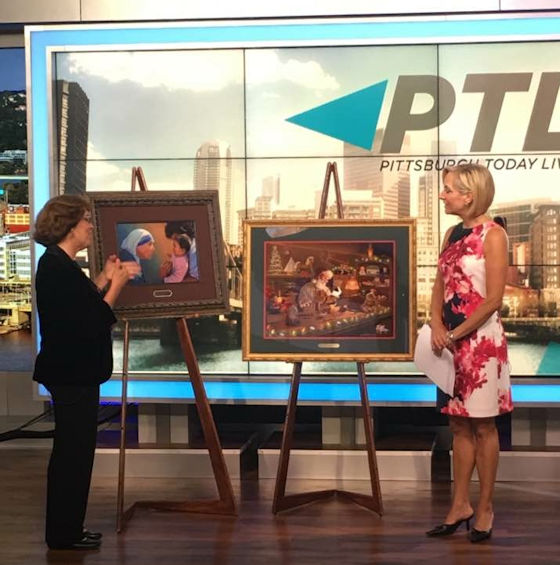 Wow! I have so much to tell you about this week! I've gone multimedia! This week you can see me 1) on TV, 2) in print, and 3) at a live show!
First of all, I was on KDKA Pittsburgh Today Live with Kristine Sorensen on Monday. What a fun experience that was! Follow the link below to see a video of me in action!
http://pittsburgh.cbslocal.com/show/pittsburgh-today-live/video-3451243-shadyside-arts-festival-returns-this-weekend/
I was also interviewed for an article that appeared in the Pittsburgh Tribune-Review on Friday, August 26th. It is a big article about the 20th Anniversary of the Shadyside Arts Festival.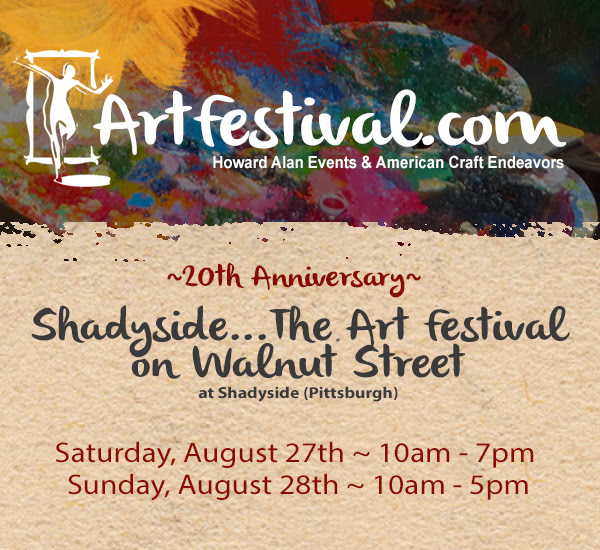 The Shadyside Arts Festival is a great Pittsburgh tradition that you shouldn't miss! I hope you'll come down and see me as well as many other talented artists.
We open on Saturday morning at 10 AM, and we'll be there until 7 PM, then again on Sunday from 10 AM to 5 PM. I am super excited to share all my latest works with you… including my new painting of Mother Teresa, "The Heart of a Saint," and my newest painting of Santa, "Making Magic in Santa's Workshop." For all you car enthusiasts, I'll also have my new "Porsche Fields Forever" painting for sale!
My new Gallery Wraps will be making their first appearance this weekend at the Shadyside Festival. Gallery wraps are just like my other paintings but they can stand on their own – no need to frame them! The colors are amazing, and the smaller size fits beautifully in most homes.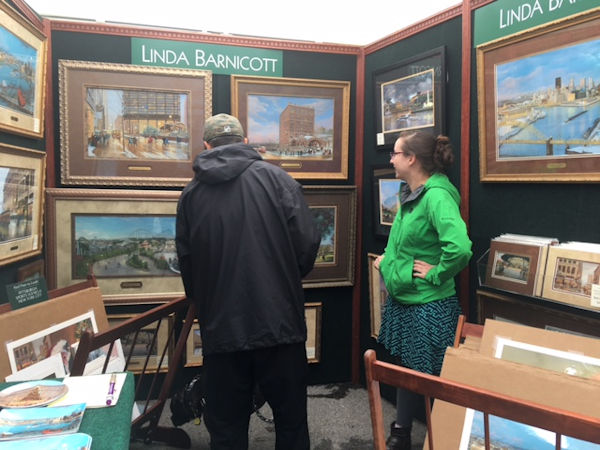 Although May's Arts Festival was a little soggy, it looks like Mother Nature will be cooperating with us this weekend! I can't wait for you to stop by and see what's new! I'm in Booth #129 on the corner of Urn Way and Walnut Street. Hope to see you there!
P.S. – Can't make the show? I'm offering FREE SHIPPING on ANY purchase from my website, www.lindabarnicott.com, from now until midnight on Sunday… this offer is good for everyone (not just my subscribers) for the next three days!
So if you can't get to Shadyside this weekend, you can still take advantage of free shipping. It's almost as good as being there, but not quite! CLICK HERE to begin your shopping!
Make sure you are the first to know about all of my news, appearances and any "special deals" I am offering to my subscribers, by taking the time to sign up for my weekly newsletters now. CLICK HERE to sign up. You will also receive a FREE slideshow showing the step-by-step development of my painting, "Celebrating Time and Tradition at Macy's".