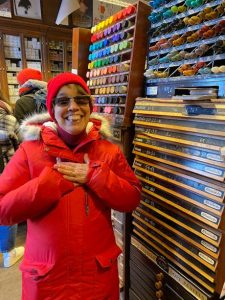 I'm back in the States now, basking in the glow of the wonderful memories we made in the last two weeks. This was my first trip abroad, and it was everything I hoped it would be.
Tom and I were on our own (not with a tour), so we did a lot of exploring on our own to get a real taste of both England and France in the short time we were there. The architecture was spectacular, and the food was delicious! But Tom and I agreed that the best part was getting to know some of the people there. Whenever possible, with every personal interaction we asked their name and introduced ourselves. We loved hearing their accents, and naturally we hardly had to open our mouths before they knew we were Americans!
Even the weather cooperated with our plans – believe it or not, we only had about five minutes of rain the entire time we were in London and Paris.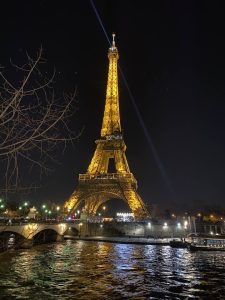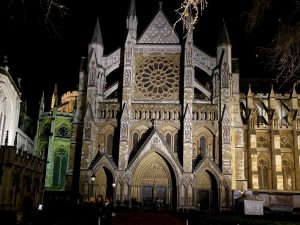 Of course, visiting historic churches was on our to-do list! We attended Evensong at Westminster Abbey, a service that has been celebrated there for a thousand years. And in Paris we visited the beautiful 13th-century Sainte-Chapelle, marveling at the exquisite stained glass windows.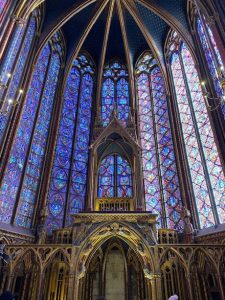 I couldn't help taking a photo under UK Smile by a red phone booth. It seemed like the perfect way to represent my journey!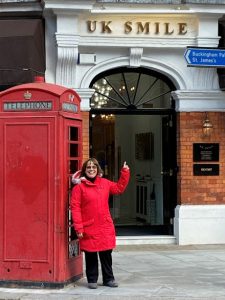 Here are a few of my impressions from my travels that I want to share with you…
England
"Mind the gap between the train and the platform" – this phrase is permanently stuck in my brain!
Steps everywhere! All the public restrooms were down a flight of stairs, and sometimes it was quite scary!
"Proper flat water" (What exactly is "improper" water?)
New buildings among some of the oldest buildings I've ever seen.
Energy amounts are listed under Nutrition Facts on the back of drink bottles.
Rarely does anyone talk on the Tube (subway).
London truly is a melting pot, with people of every nation and ethnicity.
France
Lots of bicycles everywhere!
Busy, just like NYC, where navigating the sidewalks is like playing chicken – no one wants to move out of the way first!
I failed at speaking any French, but they were kind enough to take pity on me and speak English.
History was everywhere in Paris, and the architecture was exceptional.
We had hoped to see Monet's home and garden in Paris, but it was closed for the winter season. We had to "settle" for seeing the originals in the museum!
The Seine River was beautiful with all the riverboats and the vendors along the road.
I had crepes, and they were delicious!
Meals are very slow paced. Food isn't just consumed, it's celebrated. (Getting your check in a restaurant could be hard!)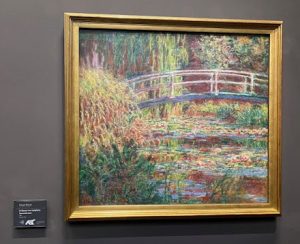 It was inspiring, artistic, and certainly left us wanting more! Tom and I feel truly blessed that we had this chance. I hope it's just the first of more trips to new and exciting places.
So returning to reality… today was my first day back in the studio. This week, I'll be getting into the swing of things with my painting projects, not to mention getting ready for the Pittsburgh Home and Garden Show that opens in just a little over a month!
P.S. – Check out my website, www.lindabarnicott.com, for gift ideas for birthdays, anniversaries, retirements… or just plain fun-to-gift pieces!