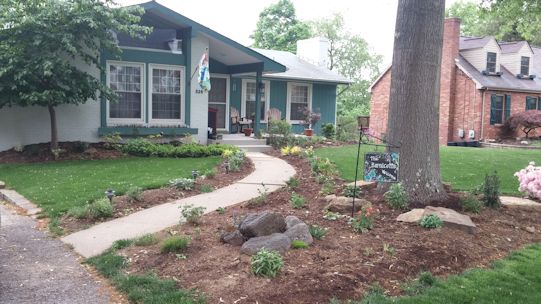 Spring has definitely sprung at my home and studio. All the beautiful perennials I planted last year are returning again this year. My only problem is that being fairly new to gardening, I don't really know exactly which ones are flowers and which ones are weeds! So if any of you who are experienced gardeners would like to stop by and offer some advice, I would be happy to listen. But in a way, it would also be fun to just sit back and be surprised at what pops up.
I do love a good surprise, and that's what has been on my mind this week.
There's a lot to love about being an artist. Painting brings me peace, and I create my art with the hope that it will awaken warm memories and give you some joy whenever you see it. But there is another bonus to being an artist that I love almost as much… and that is being a part of a surprise.
This week, one of my customers purchased a gift for his wife, a surprise for a special occasion. When he called me, he had to make sure she couldn't overhear our conversation. He had to make sure the payment didn't show up on any of their credit card statements, and he will have someone else pick up the finished piece when it's framed.
When we last talked, he apologized for making the process so difficult for me. My response was "No problem! I love being a part of the surprise." He even offered to take a photo of the event so I could see her reaction for myself. I love hearing stories like this, especially when I'm involved in them!
As Mother's Day and Father's Day are coming up, I hope you'll allow me to be a part of your celebration. I have a full line of gifts for your loved ones – everything from original pastel paintings, archival giclee and lithograph prints, and this year, my new line of candles.
I'm really excited about the candles, and so far the response has been great. Two new candles have been added to the collection… "Ice Ball Treats with Gus and YiaYia" and "Oasis of Beauty at Phipps." They just need a few final touches before they're shipped out to their new homes this week.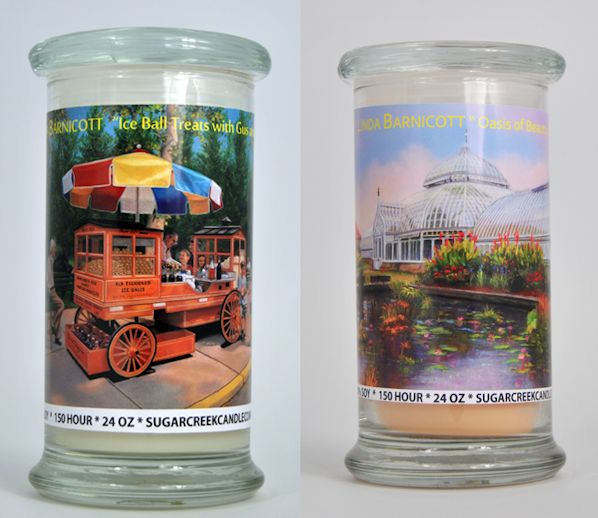 As I mentioned in my last email, there are many ways to re-purpose your candle's collectible glass jar after you've enjoyed 150 hours of candlelight:
~ Fill it with jelly beans, M&Ms, nuts, or your favorite treat
~ Turn it into a vase by adding a bouquet of spring flowers
~ Keep it glowing by putting in a battery-operated mini-light (or re-wick it and pour new wax)
~ Put it to work in the kitchen to hold your favorite cooking utensils
~ Collect all of the candles and display them together
I'm sure you can come up with even more creative ways to keep enjoying your collectible jar… I'd love to hear about your ideas!
Have a great week, and be sure to shop at my website, www.lindabarnicott.com, for inspiration if you want to surprise someone you love on their special day!
Make sure you are the first to know about all of my news, appearances and any "special deals" I am offering to my subscribers, by taking the time to sign up for my weekly newsletters now. CLICK HERE to sign up. You will also receive a FREE slideshow showing the step-by-step development of my painting, "Celebrating Time and Tradition at Macy's".