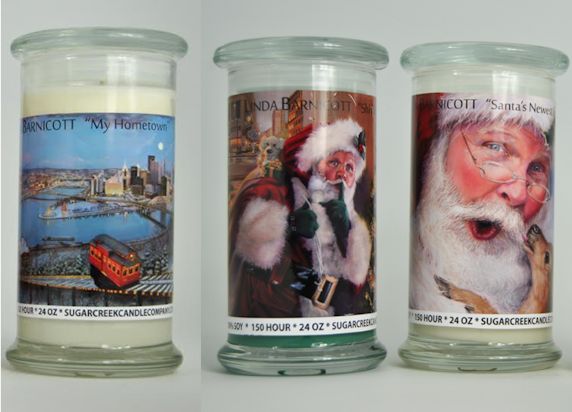 Looks like Punxsutawney Phil was right! Spring has come early this year, with warmer days and more sunshine than usual for March. In fact, I feel like this is my best Spring ever, with a great Home and Garden Show and the introduction of my new line of collectible candles. You might even say I'm on fire…
Okay, I'll spare you the candle jokes… but I want to tell you the story of how Linda Barnicott Collectible Candles were created.
My husband Tom is a fanatic about burning candles in our home – he really enjoys the warm glow of candles and also loves their scents. Unfortunately, when he used the typical candles we bought in retail stores, it didn't affect me quite the same way. My eyes would water, and I would cough my way through the day, totally miserable.
When we went candle shopping at the mall, I would have to stay outside while Tom picked out the candles he liked. He would call me to come in and help him choose between all the great scents, but I wasn't able to stay in the candle store for very long before my symptoms would begin again. Poor Tom just couldn't understand why I was beginning to hate candles so much!
That all changed at the Home and Garden Show four years ago, when the Sugar Creek Candle Company became a fellow vendor there, and I learned to love candles again. Their candles are 100% soy and clean burning – finally I could burn candles and enjoy the beautiful scents without suffering!
So for the past four years, the Barnicott household has been a frequent Sugar Creek customer. And then we had a great idea… wouldn't it be amazing if Linda Barnicott Art and the Sugar Creek Candle Company could join forces to create something unique and beautiful for our customers?
And that's how my new product line, Linda Barnicott Collectible Candles, was born!
The candles are now available on this website. CLICK HERE, to see the whole line of candles, featuring five of my favorite paintings each with a different delightful scent.
They make great gifts for friends and family… or even just when you want to treat yourself. Which one do you like the best? Enjoy!
Make sure you are the first to know about all of my news, appearances and any "special deals" I am offering to my subscribers, by taking the time to sign up for my weekly newsletters now. CLICK HERE to sign up. You will also receive a FREE slideshow showing the step-by-step development of my painting, "Celebrating Time and Tradition at Macy's".