In the first quarter of every year, the Barnicott household is a very busy place. It's pretty much nonstop action for us, as preparing for the Home and Garden Show occupies most of our time in January and February… followed, of course, by the long, long work days during the show itself. And then we have to fill all those orders we received during the show.
Yet somehow we survived it all (we always do!) and made it to April. All the paintings, prints, and giftware that were ordered have gone to their new homes, so now the Barnicotts are ready for some well-deserved playtime!
Tom and I are enjoying some quiet time alone in Hilton Head, South Carolina before we head down to meet up with the rest of the family in Orlando. I'm so excited to be having a real family vacation back in Florida for the first time in years!
For our girls, Florida has always felt like their home away from home. Way back in the days before they became popular, we bought into a time-share property about 4 miles from Walt Disney World. I know time shares can be tricky, but for us it turned out to be a wonderful investment. We spent so much time there that our kids thought it was our summer home!
In fact, two of my favorite original landscape paintings were created in Florida: one at our vacation property, "Morning on Orange Lake", and the other in the town of Celebration, "Light Streams, Water Lilies Swim". If you're interested in purchasing one of my landscapes, Click Here.
Although this is definitely not a "working vacation," I admit I did bring one of my current projects to Florida with me. You may think I'm nuts to bring work along on my desperately needed holiday, but to me, drawing is fun and relaxing!
I'm sure there will probably be some available downtime when we don't have any activities planned. So although I didn't bring any of my pastels this time, I'll be doing a little bit on the project that I'm currently working on for the Porsche Club at the Vintage Grand Prix, sketching the painting onto the good pastel board.
Here's one of the early drawings to give you an idea what it will look like…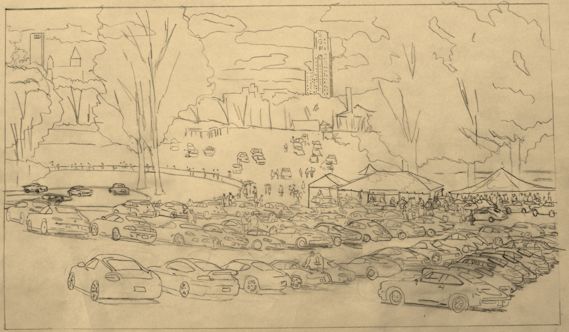 Speaking of ongoing projects, I'm making significant progress on my latest "Jolly Old Elf" series painting – Santa's Toy Shop. Those of you who have stopped by my studio in the last week have seen how it's taking shape. I'll post some photos after I return from Florida.
Make sure you are the first to know about all of my news, appearances and any "special deals" I am offering to my subscribers, by taking the time to sign up for my weekly newsletters now. CLICK HERE to sign up. You will also receive a FREE slideshow showing the step-by-step development of my painting, "Celebrating Time and Tradition at Macy's".