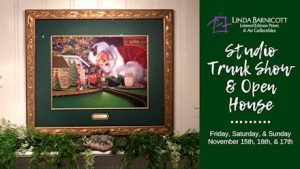 Holiday shopping can sometimes be a chore… but there will never be a better way to shop than at my Second Annual Holiday Trunk Show!  This is my event with the most intimate setting – here in my own home studio – with light refreshments, big savings, and good company.  If you're in the Pittsburgh area this weekend, you're invited to drop by for art, food, conversation, and a painless way to take care of some holiday gift shopping… all kinds of happiness!
To get ready for the big event, Tom and I have been turning our home into a winter showcase. We have been having fun decorating and setting up. We would love for you to come see it!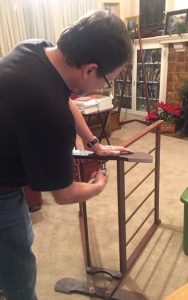 Tomorrow (Friday) is Preview Night, my biggest sale before the holidays, where you can take 20% off anything in the show. That's right… everything from magnets to original paintings and anything in between (excluding my Super Savers, which are already marked at 40% off).  You're welcome to stop by anytime between 7 and 9 pm.
On Incentive Saturday, I'm offering percentage discounts – the more you spend, the more you save! Show hours are 10 am to 1 pm.
Finally, the fun day, Mystery Sunday… Last year was a hoot! Each visitor gets a card, and no one goes away without something special. Try your luck this year and see what you will receive!  Come visit us any time between 12 and 3 pm.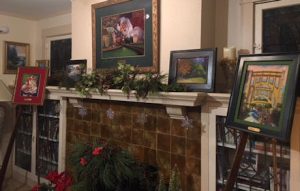 My dream is that this year's Trunk Show will be as successful as last year's.  Our family sure had a ton of fun, and we would love to make this an annual Barnicott tradition.  So please come on over to my Trunk Show this weekend for fantastic art and gift bargains, good company, and yummy snacks.  You may even learn to enjoy holiday shopping!
Happy Holidays!
P.S. – New location this year in Brentwood – plenty of on-street parking!
3211 Brownsville Road
Pittsburgh, PA 15227