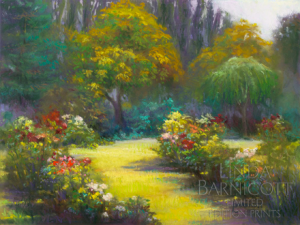 We're only one month into 2019, and it's already been a year of big changes for Tom and me. In the last few weeks, we have moved to a new home, Tom has officially retired, and as of this past weekend, we're on a much-needed two-week vacation. All this in about four weeks! Not to mention planning and successfully pulling off a surprise retirement party with over 200 friends. So needless to say, I've been a little busy.
So busy in fact, that last night as I was sitting in the car waiting for Tom to run an errand, I realized that I had forgotten a very important meeting!
The Pittsburgh Home and Garden Show has an annual meeting for exhibitors about a month before the show begins to help gear up for the event. This year I was so distracted that I almost forgot – for the first time in 23 years!  Leaving poor Tom at the church to pack up all by himself, I hurried into town and made it just in time for the two-hour meeting.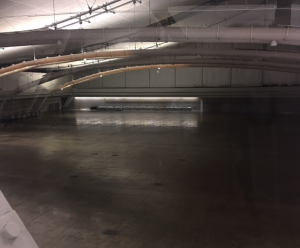 As I walked through the Convention Center to the third floor, I looked around at all that vast, empty space, remembering all the years I've brought my wares here and set up for this show. I pictured the dark cavernous space full of booths, with people walking the aisles looking for ideas to improve, decorate, or make over their homes… or maybe catch a cooking demonstration or pet a rescue dog. I remembered the joy I felt every year, meeting new people and being reunited with old friends and customers.
Driving home after the meeting, I was feeling nostalgic about my 23 years as an exhibitor at the Pittsburgh Home and Garden Show, and also feeling inspired, as I dreamed about the upcoming show. That was when I realized that I was on autopilot, halfway to my old home in Bethel Park instead of my new home in Brentwood.
My mind may be a little preoccupied right now, but I when I sit down to paint this year, my heart and soul and mind will be focused. And if you need help finding the perfect piece of art, whatever your needs, you can be sure I'll be listening!
So we may have just experienced a Deep Freeze, but Spring is just around the corner. Tom and I are grateful for being able to take a little break for now before we have to start preparing for the Home and Garden Show – the first sign of Spring in Pittsburgh. Can't wait to see you there!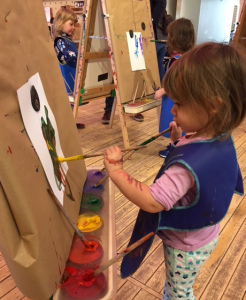 P.S. – Tom and I recently took our granddaughters to the Pittsburgh Children's Museum. Aria's favorite place is the Painting Room. Sometimes she paints with her right hand, sometimes with her left… this could be interesting!