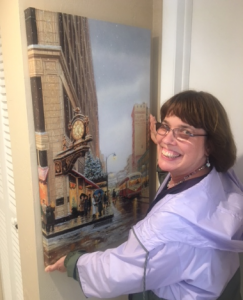 As an artist who owns her own business, it's sometimes within my power to make someone's wish come true. And on this Florida vacation, I had the opportunity to do just that!
During the holidays, I was contacted by a customer who was interested in purchasing one of my paintings. She wanted something to remind her of her Pittsburgh home while she was at her condo in Florida. Eventually she decided on "Waiting for You Under Kaufmann's Clock" – she had fallen in love with it after seeing it on a new metal piece I had at the Chalet.
But there was one problem; the wall it would hang on was long and narrow, and most of it was taken up by an unsightly electrical box. The painting would have to cover the box completely.
Putting our heads together, we decided that a canvas gallery wrap might do the trick. So I was off to see Alex, my printer, with the dimensions. Alex was able to create a slice of the painting that included the clock and the streetcar that would fit perfectly within the space available.
I mentioned to my customer that because of the size and the delicate handling it would require, I would rather not ship it. I told her that Tom and I would be happy to deliver it right to her condo while we were in Florida. Hey, why not? It was a beautiful day to take a long drive, and besides, we could visit Riviera Beach, a place we had never been! It's "all in a day's work" for an art entrepreneur.
We had a great visit with their tenants, and we even got to see what the painting looked like up on the wall. Then we had some time to check out the beautiful beach.
Have I mentioned lately that I love my job??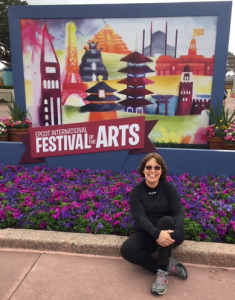 We also paid a visit to the Mouse House on Tuesday to see the International Arts Festival at Epcot. Tom and I had a lovely day seeing all the beautiful works of art, listening to the musicians, and enjoying the special foods they prepared for the festival. Being surrounded by art and beauty was just what I needed to get my creative juices flowing. Which, as you can see from the picture below, was something I was really in need of!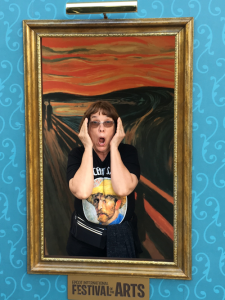 Though I didn't intend this to be a working vacation, I did take the precaution of bringing along a few sketching supplies. Thanks to all the creative inspiration, I've been able to get a head start on the first drawings of my new Santa painting for 2019… Woodland Santa! So far, I like the feel of it.
And one more thing that's a sure sign that Spring is just around the corner… my mind has been wandering to planning for this year's Home and Garden Show. This year, it runs March 1st through 10th at the David L Lawrence Convention Center.
I think the vacation has done a good job of clearing my head, because something just dawned on me since I've been away… I thought 2019 was around my 23rd year for at the show, but my numbers were all wrong! It's not 23 – this year will be my 25th Home and Garden Show!!
Yes, 25! A quarter of a century!
Now that I know this, I've decided there will be an ongoing celebration at my booth! In just a few weeks, you can come check it out.