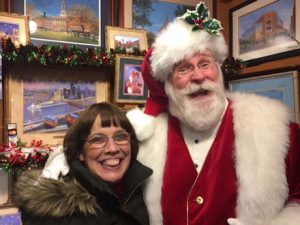 Greetings from the Chalet in Market Square! … pretty much my home-away-from-home until December 23rd. With the frosty weather this week, I'm really glad I invested in some Arctic-grade long underwear! But one of the things that bring some sparkle to all those long cold days is the wonderful visitors who come to see me there.
First, of course, The Jolly Old Elf himself has been visiting with children in his Market Square Santa House, and he stopped by on his break to say hello. I have a feeling he just likes looking at all those paintings he's in!
Then just yesterday, the Penn State Lion was passing by my chalet, and he practically flipped out when he saw the painting of Old Main on the top shelf. He couldn't stop hugging me and thanking me for the memories it brought to mind. The video crew he was with even interviewed me about the Market!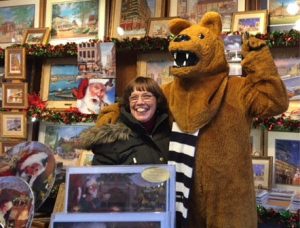 But the most meaningful, heartwarming visit this week was with a young man named Michael.
It was a busy day at the Chalet last weekend, and I was signing art gifts for one of my customers when I noticed a young man looking in from the other side of my counter. When we made eye contact, he asked, "Ma'am, are you the artist?"
"I am," I replied.
Michael explained that he had served in the Marines, and he's now newly married and living in Boston. He was visiting with his Pittsburgh family for the Thanksgiving holiday.
"Years ago," Michael said, "you gave me a free magnet because I was in the service. I brought that magnet with me when I was stationed overseas. It reminded it of home through all my deployments. Even in Afghanistan, it kept me thinking of home."
"I just wanted to say thank you."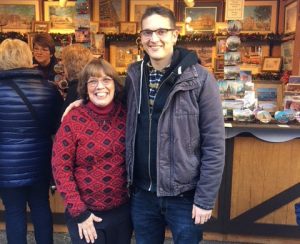 I think my heart swelled to three times its size that day – to think that a little magnet of my painting, "My Hometown," meant so much to this young man that he made a special effort to thank me.
It's people like Michael who serve on behalf of those who don't have a voice, who just want to have a normal peaceful life. I was happy to have the opportunity to say "Thank you, Michael, for putting your life in danger so that others may be free."
So this holiday season, take a few moments and let someone in your life know how much a small gesture meant to you. You may just make their holidays a brighter, warmer time… like Michael did for me.
Have a great week, and if you're in town, please stop by the Chalet and say hello!
P.S. – Treat yourself to an old-fashioned Christmas!
My daughter Brittany will be representing the Barnicotts at this year's Christmas at the Village at Old Economy Village. We are participating for the first time with my paintings and gifts at this lovely show.
Take the family to experience a German Christmas of the 1800s with candlelit pathways and decorated buildings. You can even visit with Belsnickel – Santa's Pennsylvania Dutch cousin!
Christmas at the Village will be open to the public from 2 to 9 pm on Saturday, December 1st and Sunday, December 2nd from 2 to 7 pm.