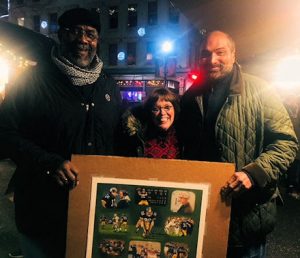 Despite the long hours and cold weather, one of my favorite parts of the Holiday Market is people-watching … looking out from my Chalet to see folks sharing the holiday spirit, shopping, and enjoying hot chocolate and live music.
At this time of year, Market Square truly feels like the heart of the city. Folks from all walks of life gather here to enjoy the Holiday Market. People not only from the many neighborhoods of the Pittsburgh area, but from many different cities, states, and even countries as well.
What do they have in common? I think it's our love for each other and for this special season of joy, and I see it here every day. I may not be "Home" much lately, but being here in Market Square fills my heart with joy.
I just love hearing from people after they have received my art as a gift – it's like the happy ending of a story… and who doesn't love a happy ending?
This week I received a thoughtful email from Diane Cox, who asked me to send a print of "Meet Me Under Kaufmann's Clock, Too" to her sister. What she said warmed my heart so much that I asked her if I could share it…
"My sister received her print yesterday. We had laughed and reminisced about our connection to Kaufmann's clock. Thank you for making this nostalgic trip in time possible through your artwork! And thanks for putting the streetcar in the painting. Another Pittsburgh memory for our family."
I also wanted to share a beautiful photo I recently received from JP Diroll, a dear friend who happens to be a very talented photographer. Here, JP is helping his little daughter hang one of my ornaments on their tree as she celebrates her first Christmas.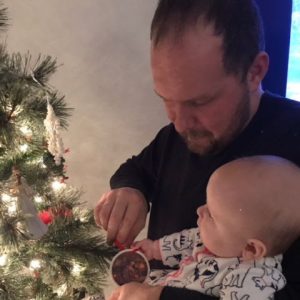 The highlight of my week, however, involved a very special visit from an old friend. Franco Harris dropped by the Chalet this week, accompanied by his friend Mean Joe Greene (who in real life doesn't have a mean bone in his body!).
Franco wanted to purchase a signed print of my painting "Franco Harris – The Story of the Immaculate Reception" for his friend, Joe. I came outside the Chalet to get a photo with Franco and Joe, and as you can see, I look awfully small between these two legends – big guys with even bigger hearts.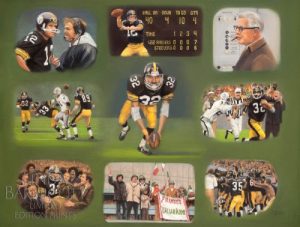 So as we were looking at the print, I said "Joe, let me tell you a little about this painting." Joe asked, "Now what can you tell me that I don't already know?"
I proceeded to give him some of the behind-the-scenes details of the painting, like…
How Franco and I were text buddies during the process of creating the painting. We were always texting back and forth about some tiny detail, like whether the color of his wristband was exactly right.
The reason I added Frank Sinatra and Myron Cope to the painting was because they were Honorary Generals in Franco's Italian Army.
How I had originally placed the Game Ball in Franco's hand as he returns to the locker room in victory… but I didn't know they actually had lost that very important ball that day!
It was a lot of fun hanging out that evening with Franco and Joe and their lovely families. I'm in awe of how they were so giving of themselves, happy to spend time with their fans, smiling, shaking hands, and taking picture after picture with anyone who asked.
It just goes to show, you never know who you might run into in Market Square. Come on down and say hello!
Happy Holidays!