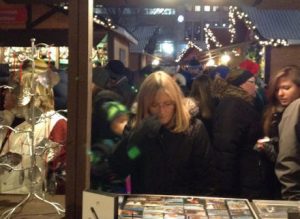 Thanksgiving is that wonderful time of year when I kick back and remember how grateful I am for all of you.
Every one of you has brought great joy into my life! Just knowing that you read my blog each week and you're interested in keeping up with my family and my art career means so much to me. You are the reason I paint, whether it's our beloved Pittsburgh, familiar landmarks… and of course, the Big Man himself, Santa.
So for this special holiday weekend – and that includes Black Friday, Small Business Saturday, up until midnight on Cyber Monday – I'm hosting a sale on my website.
Anything and everything on my website is 10% off this weekend, with the added bonus of Free Shipping on orders over $100.00. Just enter the code GRATITUDE when you order.
P.S. –'Tis is the season to be grateful for family and friends! Happy Thanksgiving from the Barnicotts.