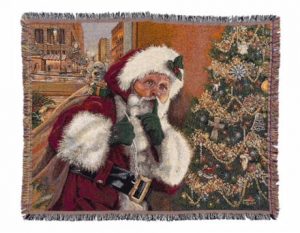 How can it be time for me to get started on the holiday season already? I haven't even had time to enjoy my backyard garden yet!
Though summer will soon be just a memory, I'm very excited for the holiday season this year – I have something really big in store for 2019… something new and special I've created that will only be available for a limited time.
Despite the summer heat, I was thinking not long ago about the things that remind me of a cozy, old fashioned Christmas. Things like hot cocoa with marshmallows, listening to carols, and baking cookies. One of the things I pictured was cuddling under a soft, warm throw on a cold winter night with someone you love.
Then I wondered… what if I could put one of my Jolly Old Elf paintings on a throw blanket? I immediately thought of "Shhhh!" – the first painting in the series and still one of my biggest sellers.
So now for a limited time (this holiday season ONLY), I'm offering this plush "Shhhh!" 100% cotton woven jacquard throw blanket. The blankets are a generous 52″ x 68″ with a tapestry look in a multitude of colors. They're even made right here in the USA. And as you can see, they have Santa's approval!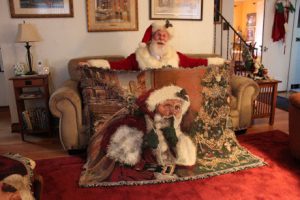 My Santa blanket would make a wonderful and unique Christmas gift for someone special… or perhaps a lovely addition to your own home for the holidays!