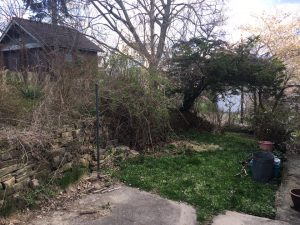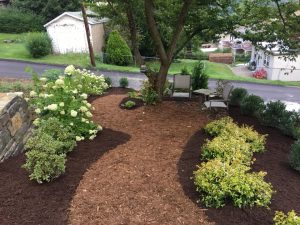 Remember how I mentioned last week that I hadn't had time to enjoy my backyard yet? This week we made great progress on finishing the landscaping for my "Secret Garden." Of course, as an artist, I saw it as another blank canvas just waiting to be painted. After a ton of digging, weeding, and planting, Tom and I are just one arbor, five bushes, two plants and one Japanese Maple away from finishing our Secret Garden. Once it's ready, it will be my place of Zen and possibly my new outdoor studio when the weather is nice.
But the last week hasn't been all gardening… I also just finished my new Santa painting, "Wishes for Santa." In next week's post, I'll show you the process from the first sketch until the last marks were placed (I was actually still making changes to it the other night at midnight!).
And if you read last week's post, you may have seen something brand new I've created that's being released for the 2019 holiday season only!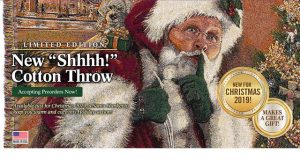 This Santa Claus throw will remind you of an old-fashioned Christmas, with colorful Christmas lights and a toasty warm fire. You can almost smell the pine! This cozy throw will not only keep you warm but will also make a lovely addition to your home holiday décor. And did I mention it also makes a wonderful gift?
My "Shhhh!" throw blanket – made right here in the USA – is 100% cotton woven jacquard in a multitude of rich colors and measures 52 x 68 inches.
Again, it will only be available for a limited time, and orders need to be in by Thanksgiving to guarantee Christmas delivery. I'm overwhelmed by the number of orders so far, and quantities are limited, so get yours now before they're gone!
This year, why not get something unique for your family and friends (or yourself!)?