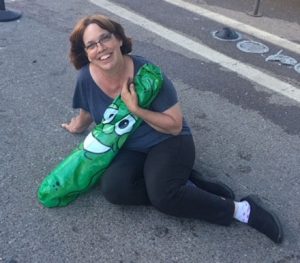 Picklesburgh was tons of fun!  Who knew there were so many pickle-loving people in Pittsburgh?
You never know who you might meet at a show… and thanks to one of those random encounters, long story short, Grandpa Joe's Candy Stores will soon be carrying my Pittsburgh-themed magnets.
I also wanted to let you know that my work is now available at Pittsburgh International Airport! The two main stores are the new Pittsburgh Exchange and the Black and Gold store as well as five Travel Marts. As you can see, they have done a wonderful job of displaying my work.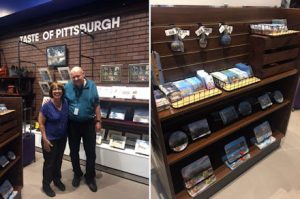 Now that Picklesburgh is part of the past (won't you miss all my "P" alliterations?), it's August… time to think about Christmas! At least it is for me, as I'm starting to work on the first of my final two Santa Claus paintings in the Jolly Old Elf series.  Here's a sneak peek at the very first sketches!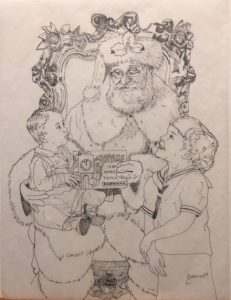 Anyone recognize the chair Santa is sitting in? If you guessed Santa's Chair at Kaufmann's Toyland, you're right!  For many years, this was the throne where Santa sat, hour after hour, patiently listening to little children (or kids of all ages!) telling him what they wanted for Christmas.
In this year's first Jolly Old Elf painting, Santa has two very special children sitting on his lap…
Months ago, my cousin was going through pictures and came across one of a little girl – in a sailor suit, no less! – gazing up adoringly at Santa Claus. Yes, it was Yours Truly, with my hands folded just so, fascinated just being in the presence of the Big Guy, sure that he would magically bring me exactly what I asked for.
Since the beginning of the series, I had been thinking it would be cool to do a painting where the artist and Santa appeared together, and this photo provided just the inspiration I needed to do it.  Thank you, Ruth Ann, for thinking of me!
Then one day Santa and I were talking about the painting, and he reminded me of how I always find a way to put Tom in my paintings.  Maybe a young Tom could be one of the children on his lap? In a split second, I remembered seeing an old picture of Tom looking up at his dad, who was showing him a toy train while sitting on the floor in front of their Christmas tree. So we got out the old family slides and had a fun night of popcorn and memories!
The next step was setting up the photo shoot for this Christmas scene… in July.  A very hot July. I needed Santa to pose for me once again in his full "uniform." But he was a good sport about it! It's a good thing he loves Christmas so much.
We used a stuffed bear to hold Tom's place on Santa's lap, and after a few shots, I got the perfect pose.  Next question – what should he be holding? We considered a toy train… a wrapped present…  maybe an old coloring book?  Santa is a collector of vintage Christmas items, and he happened to have an old toy catalog from Kaufmann's. What could be more perfect than little Tommy bringing along the catalog so he can show Santa exactly what he's wishing for?
I've just started painting the Kaufmann's "Santa's Throne" part of the piece. It's a challenge because of the intricate detail of this beautiful chair, but it will be worth the effort to bring back happy memories for those former children who once sat on Santa's lap.
What are your memories of childhood visits with Santa?