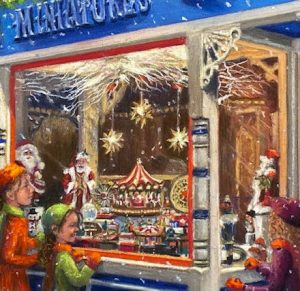 Tom and I had a great time at the Covered Bridge Festival last weekend! It was great to see so many dear friends, not to mention meeting many new ones. The weather was perfect, without a drop of rain – my favorite kind of show!
Did I take a day off to rest up? No! I woke up Monday morning and went straight to work on my newest painting, "Santa's Favorite Toy Store."
The painting has a few special "Easter eggs" (hidden features that my readers will notice). First, you might recognize my favorite models, my grandgirls, looking into the store's window.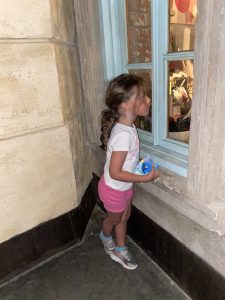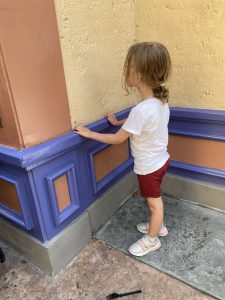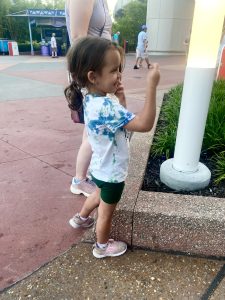 And you'll also see a figure in the display that may look familiar… Perhaps a certain someone who has appeared in a few of my paintings, now turned into a toy? Yes, that's our Santa smiling back at you! Mr. C had quite a few Santa figures in the window, so I didn't think he'd mind me switching one out for our own Jolly Old Elf!
Then if you look in farther back in the store, you can actually see Mr. C (owner of S.W. Randall's for the last 52 years) working, perhaps setting up a new display.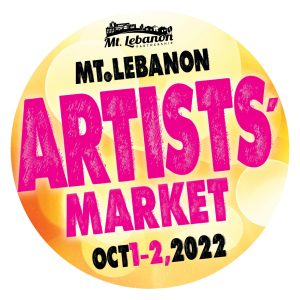 "Santa's Favorite Toy Store" will be unveiled at the Mt. Lebanon Artist Market on October 1st and 2nd. Follow this link for more information about the show: https://mtlebopartnership.org/events/mount-lebanon-artist-market/
Next week, you'll be able to pre-order your own copy of the print on my website, www.lindabarnicott.com.