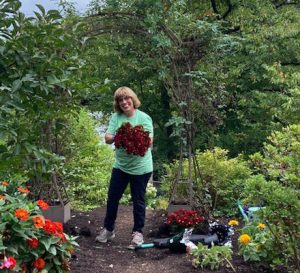 After all the construction and traveling this summer, Tom and I took some time out this week to give our backyard some attention. While I was planting some mums this afternoon, my daughter Brittany took a photo of me. It occurred to me that the way I was holding the plant looked like I was holding a football, about to charge at her through the garden.
Which reminded me of the news recently that Franco Harris, four-time Super Bowl Champion and Super Bowl IX MVP, will be honored by the Steelers retiring his number this year. It will be one of only three officially retired numbers. No Steelers player has worn Franco's number since 1983.
It's hard to believe that it was about this time 10 years ago when I first met Franco to present my idea of a painting to celebrate the 40th anniversary of the Immaculate Reception. The second time we met, I had these sketches of that day, nine original pencil drawings. Franco took his time and carefully looked at each one.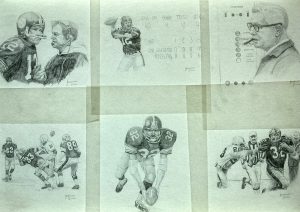 When he got to the drawing that would be at the center of the painting, I proudly announced, "And that's The Scoop!" He gave me a very puzzled look. I repeated, "You know, the Scoop!" and I made a mime hand motion like I was catching the ball. He smiled, put his hand gently on my arm, and said, "Linda, it's called the Reception, The Immaculate Reception." Franco and Tom found that quite funny, but how was I supposed to know? I was a Jersey girl who grew up sailing every weekend on Barnegat Bay, not watching football!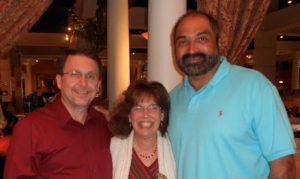 Originally, I hadn't planned to include Art Rooney in the painting, as he was in the elevator at the time and missed the play. But what if I could find a photo of the inside of the elevator? It took a lot of research, but eventually I found the original elevator panel housed at the Pro Football Hall of Fame, and I was able to get a photo of it. So, Art did make it into the final version!
In the end, it was worth all that work (and a lot of help and collaboration!) just to see Franco's expression when I showed him the finished pastel painting.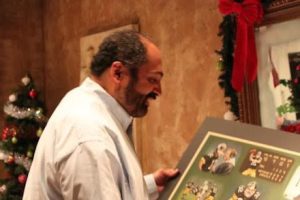 When the time came for it to make its debut, Franco invited Tom and me to the Heinz History Center along with most of the 1972 Steelers team for the unveiling of "Franco Harris – The Immaculate Reception Story." You can see it under wraps on the easel.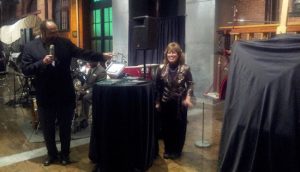 As we stepped up for the unveiling, Franco was on one side, and I was on the other. Because he's pretty tall, he had no problem pulling the cover off. I, on the other hand, am definitely NOT tall. I literally tried jumping up to get the cover off the painting. After a few tries, Franco finally came over and helped me unveil my side.
There are many stories associated with this painting, and a lot of Pittsburghers have shared their own memories of The Immaculate Reception with me. What do you remember about that day?
I have ten artist proofs and five artist-enhanced giclee prints that are signed by Franco himself. I currently don't know if there will be more. With this being the 50th Anniversary of the Immaculate Reception, it would make a great gift for the Steelers fan in your life! You can check out the print at https://lindabarnicott.com/product/franco-harris-the-immaculate-reception-story/ At this point, they're available on a first-come, first-served basis.
I'm reaching out to Franco about doing another signing, so we will see. I also may be talked into selling the drawings. If you're interested, don't hesitate to get in touch!