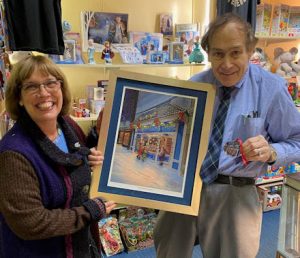 Introducing my new painting — "Santa's Favorite Toy Store,"!  I've created a limited edition of just 50 special Artist-Enhanced Giclee prints. These are much larger than the open-edition Giclée, and they will be hand-enhanced with my soft pastels, just like the original. I will highlight numerous areas in the painting to make it look much more like the original. Each one will be uniquely beautiful, each one an original in itself.
I will have one framed Artist-Enhanced Giclée this weekend at the Mt. Lebanon Artist Market in the Academy Parking Lot behind The Saloon, across from the Rolliers Hardware parking lot off Washington Road. Weather permitting, the original pastel will also be there. Lee Heckman Custom Framing did great work making the giclée look beautiful.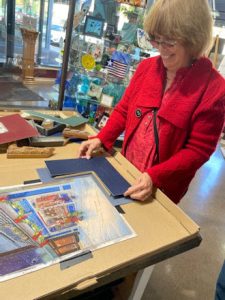 As soon as I finished the painting, I headed over to Courtney-Laughlin Frame Studio and Gallery in Beaver to pick out just the right framing for the original. I love working with Jamie and Kathy, who always design fantastic framing for my originals. As you can see, I'm "in the zone," creating just the right look for the original!
Here's the first reveal of "Santa's Favorite Toy Store," a nostalgic Christmas print of the one-of-a-kind S.W. Randall Toyes and Giftes, our city's oldest toy store and the last animated Holiday window in the city.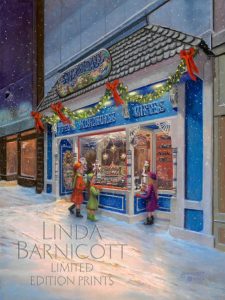 In this painting, I set out to capture the fascination of three little girls who are gazing through the window of this magical playland in excited anticipation of Christmas morning. Holiday hopes have come alive for generations of children at S.W. Randall Toyes and Giftes on Smithfield Street in Downtown Pittsburgh.
The other day, Tom and I drove to downtown Pittsburgh to gift the proprietor of S.W. Randall with a framed print and the new ornament featuring his toy store. Jack Cohen, known by everyone as "Mr. C," is such a nice man. Beaming with pride, he paid me a nice compliment, asking, "How do you get to paint like this?" I told him, "I don't know – I've been painting all my life!"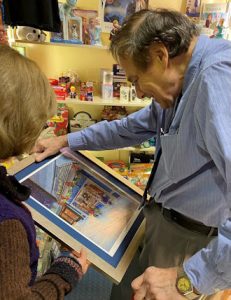 Mr. C was tickled pink when I also pointed out that he's in the painting, too. I pointed out some of the other "Easter eggs" in the painting, like how I painted "my Santa" in the window, and that the three little girls looking in the window are my granddaughters.
I feel very blessed to have been able to paint this wonderful landmark toy store. I hope "Santa's Favorite Toy Store" brings back happy memories to families who have delighted their children and grandchildren with gifts from S.W. Randall over the years.
I hope you will consider adding this colorful, and charming painting to your collection. Check it out at https://lindabarnicott.com/product/santas-favorite-toy-store/ and order your print today!