Cancer Society Card Portrays Recent Tradition
This Year's Holiday Greeting Features Skaters at PPG Place
Pittsburgh Tribune-Review, September 13, 2003
George Aspiotes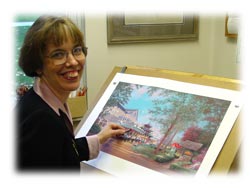 Grant Street got its first taste of the holiday season Friday as officials from the American Cancer Society joined with local artist Linda Barnicott to unveil the organizations 2003 greeting card.
The card titled "Skating Together at PPG Place," shows a wintertime scene of people ice skating in PPG Plaza, Downtown. It is the sixth piece that Barnicott has painted for the society's holiday fund-raiser
" I just feel so blessed, and this is a way for me to give back some of the blessings I have," she said. "This has been such a good thing."
Originally a portrait artist. Barnicott became interested in painting Pittsburgh scenes after she saw the nostalgic effect that her first painting, "Meet Me Under Kaufmann's Clock," had on people.
"Portraits were such a personal gift," she said "But with the Pittsburgh scenes, I've found that I was touching a lot of people the way I did with portraits."
Barnicott chose this year's scene because she felt that ice skating conveyed that same wholesome and nostalgic feeling. The painting of "Skating Together at PPG Place" was purchased by a couple who said it reminded them of the times they had taken their granddaughter skating.
"Skating gives families a chance to come into Pittsburgh and come together," Barnicott said of the fairly recent winter attraction at PPG Place. "It's one of these feel-good things."
The American Cancer Society has earned more than $190,000 selling Barnicott's previous five holiday cards. This year, the organization printed 62,500 cards, which sell for $23 for a box of $25. Barnicott estimated yesterday that 10,000 cards already have been sold. "The impact that (Barnicott's work) has on our organization is tremendous," said Sharon Malazich, an income development specialist for the American Cancer Society. "It's a great project for our organization."
Barnicott's past efforts for the society have included holiday pictures of Grant Street, Station Square and a view of Pittsburgh from Mt. Washington. She said she has her idea for next year's card, but is not ready to share it yet.
For information on ordering this year's holiday cards, contact the American Cancer Society at (412)-919-1100. All proceeds benefit the Southwest Region of the American Cancer Society's Pennsylvania Division.