Capturing Pittsburgh
Philadelphia Native Makes Name for Herself Painting 'Burg Things
Pittsburgh Business Times, July 18, 2003
Andrea Zrimsak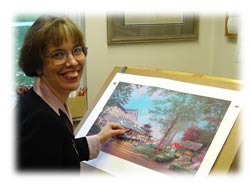 Few artists capture the nostalgic beauty of Pittsburgh as well as Linda Barnicott. This Philadelphia native and Green Tree resident touches people's hearts and memories with her famous Pittsburgh scenes including "Game Day at Pitt Stadium," "Holiday Season on Grant Street," "The Grandview of Pittsburgh" and "The Glory of Heinz Chapel," the first in her new "Autumn in Oakland" series.
Her first painting, "Meet Me Under the Kaufmann's Clock," has become so popular she recently completed two more original paintings of the same location entitled "Waiting for You Under Kaufmann's Clock" and "Meet Me Under the Kaufmann's Clock, Too!"
Ms. Barnicott's timeless art has been featured on the American Cancer Society holiday notecards since 1998. Each year the cards sell out long before Christmas, raising thousands for cancer research. She is working on a series of Kennywood paintings and recently unveiled the newest piece, "Celebrating Kennywood's Fall Fantasy."
Capturing memories of Kennywood is easy for Ms. Barnicott because the amusement park was the setting of her first date with her new husband. Ms. Barnicott began her art career in second grade, drawing portraits of teachers and fellow students for $2 each. She eventually began doing portrait work for a framing gallery in Greensburg. At that time, her neighbor, a graphic artist, began teaching her perspective, a skill that enabled her to expand her art from portraits to landscapes.
It was the gallery owner who asked her to create a painting featuring a trolley stop in downtown Pittsburgh. That request led Ms. Barnicott to paint the now famous scene under the Kaufmann's Clock, which once served as a bus stop.
Ms. Barnicott spends up to one year completing each original painting. She begins with photos and uses them to make a pencil sketch that is filled in with hundreds of shades of soft pastels. When she needs people in the painting she often has family and friends strike the need pose. Her husband appears in every one of her paintings and her daughters have begun accompanying their dad. If needed, Ms. Barnicott will even paint herself into her work.
A few of Ms. Barnicott's orignial paintings are still available for around $7,000 each. She also sells artist-enhanced giclee prints for around $400. A giclee is a limited edition print digitally reproduced then hand enhanced with pastels to resemble an original painting.
Signed and numbered prints of each original are available for around $125. Ms. Barnicott offers a remarque for an additional $75. This technique allows her to personalize a piece by drawing a portion of the image onto the border of the print in gold ink.
If you're looking for a less expensive way to reminisce, consider a box of 10 mixed notecards for $20 of a Kennywood poster for $25. Mugs are available for $14.95 and eight different magnets for $3 each.
Ms. Barnicott's art is available at 55 local galleries and on her Web site at www.lindabarnicott.com. The site also features a complete gallery of her work.