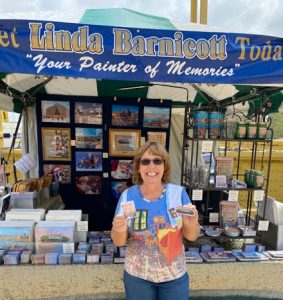 The Barnicott family just had an amazing weekend at Picklesburgh on the Seventh Street Bridge in downtown Pittsburgh. Maybe it's because we're so out of practice, but it seemed like more of a marathon then our typical show. Nevertheless, we were delighted as countless old and new friends stopped by to say hello and to browse and purchase my work.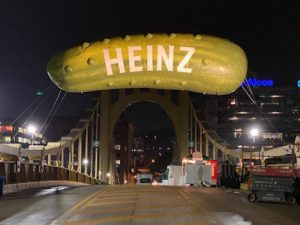 We quickly sold out of a brand new item that I created especially for Picklesburgh – two exclusive Picklesburgh stickers. One was "Pickle Fun in Pittsburgh," and the other was simply the giant pickle balloon that I painted in "The Pickle is Back!"
.
Who knew stickers could be so much fun?  Many customers bought them to decorate their notebooks or laptops, and one fella said he bought it to add to the "art gallery" on his refrigerator!
The vendor next to me had a fabulous display of painted fruits and vegetables and also sold stickers. She said she had actually been selling them for some time, but for the last year and a half, her stickers have been selling like crazy! So you may see more stickers at my shows in the future…just for fun!
Picklesburgh was my first show in such a long time, and I am most grateful for the opportunity to get back out there and have face time with people again!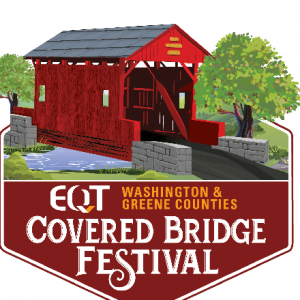 Mark your calendars! 
My next show will be Saturday and Sunday, September 18th and 19th at the Washington & Greene Counties Covered Bridge Festival. My tent will be set up at the Ebenezer Covered Bridge located in Mingo Creek County Park. More details to come!
Just a heads-up: As we move into the coming holiday season, I will be selling out of some favorite gift items. More on that soon. So if you're looking to get an early start on your holiday shopping, visit the "Collectibles" section at www.lindabarnicott.com