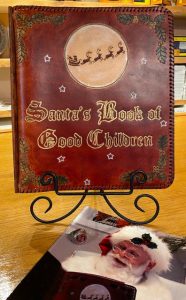 After doing quite a bit of traveling lately, Tom and I stayed home last week, and I pretty much lived at my easel. I can tell I've been putting in long hours in the studio because my house is falling apart just a little bit more each day. With Tom helping out once again with our grandgirls, this house doesn't stand a chance! (But my garden still looks beautiful – priorities!)
I am very close to finishing "Santa's Book of Good Children."  It's funny… after completing ten paintings in the "Jolly Old Elf" series, I have painted Santa so many times that now it almost seems like Number Eleven is painting itself!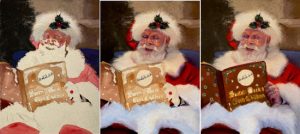 When I'm laying in the facial features, I always use hard pastels. There are many brands of pastels that I use in every painting; from hard pastels that put on a thin layer of color, to very soft pastels that feel buttery when applied.  Each time I returned to the easel, I would re-draw until everything was in its place.
One of my favorite parts of creating this piece has been painting the fur. I keep a Viva paper towel in my right hand and wipe the chalk after each stroke to keep it clean. It takes a little longer, but the end result makes the fur look real and soft.
As I was thinking about this composition, I realized it would make my job much easier if I borrowed some of the items that are shown in the painting. So a few weeks ago I met up with Santa John (the Jolly Old Elf himself), and he was kind enough to lend me his wonderful leather-bound Book of Good Children and his Santa Claus ring that he often wears during the holiday season. As I worked my way around the painting, I painted the ring on his hand and placed the beautifully made book on his lap. It was really helpful to have both of these items sitting right next to my easel to capture their detail.
Stay tuned for the completed painting!