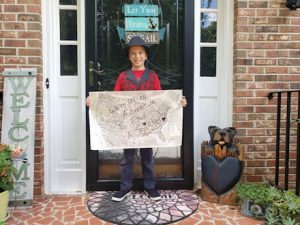 I grew up in a very creative family. My father was a Jack-of-all-trades, and our family is full of musicians and artists.  For most of them it was a hobby, though there were a few who were able to make it a profession. I, of course, received the art gene and have been blessed to fulfill my childhood dream of making a living through my art.
Many family members of the younger generation have also found ways to express that gene and make art a part of their lives.  Brittany has discovered her inner artist since the start of COVID.  I cherish each and every one of her creations, though I have to keep telling her that I'm not saying her doodles are good just because I'm her mother!  My younger daughter Alyssa is a schoolteacher and a wonderful mom, and she too has been exploring her artistic side. She enjoys creating décor for her classroom and sketching just for fun.  My nieces, Amy and Laura, were homeschooled, and they developed their art talents with beautiful renditions of life, love, and faith.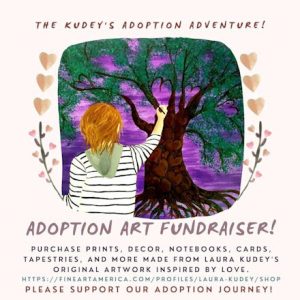 Laura and her little family are off on a new adventure, and her art is the road that will help lead them there. Their dream is to adopt a child from the foster care system, and they're hoping to find a girl between the ages of 6 and 10. Their son Riker is very excited about the possibility of having a sister to share his life.  They're a loving family, and I have no doubt they'll be the perfect home for some little girl.
Laura is selling her artwork, with 100% of the proceeds going to fund the adoption – canvas prints, framed prints, posters, tapestries, t-shirts, notebooks, and more! I hope you'll consider one of them for your home or as a gift.  If you know someone who might like her work or would want to support their journey toward finding a daughter, I would be grateful if you would help spread the word.
I love my niece's art!  My personal favorite is the Family Tree Print (as shown in the poster above). I hope you will also enjoy Laura's work.  Just follow this link to check it out –
https://fineartamerica.com/profiles/laura-kudey/shop
As for me, I'm just beginning to work on a new commission piece. I only take a few commissions during the year, and it will feel good to be painting again.  I'm also looking forward to announcing some new fun items of my own… coming soon!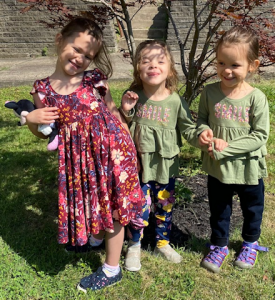 P.S. – All my granddaughters are now officially one year older! Aria is now 5, and the twins Autumn and Abigail have reached the advanced age of 3! And (this is the big and)… they all started school last Friday!!! Oh my, get out the tissues!