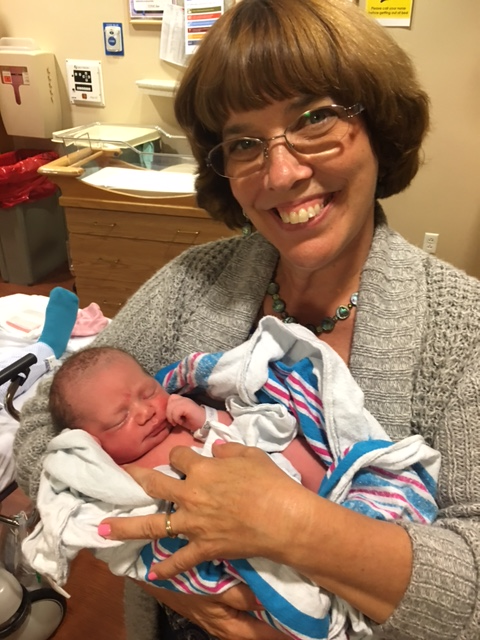 That's right – I became a grandmother this week! And I have a feeling we'll be telling the story of the events leading up to Aria's birth for many years to come…
It all started at the Shadyside Arts Festival, which definitely didn't turn out quite the way we expected this year!
We were having a great weekend of sunny (though very warm) weather at the festival. It was really terrific! Sales were brisk all weekend, especially for my new paintings. (In fact, I want to thank all of you who came down to the show and visited my booth!)
Then just as we were packing up, there was a feeling of uncomfortable déjà vu as we noticed raindrops starting to fall. Visions of last year's Three Rivers Arts Festival disaster passed before our eyes… this time, however, I was smarter and ran to get our van as soon as the first drops hit.
Fortunately, our whole family was present to pitch in. As I pulled the van up to the booth, the downpour began. So the first thing we did was to put my very pregnant daughter inside for safekeeping. As we hustled to get the paintings into the van, it began to rain even harder. We decided to just stand under the roof of our tent and wait out the storm… or at least that was the plan!
Moments later, it started to hail… lots of hail… and then (déjà vu all over again, as they say), the wind kicked up. It was relentless! Before long, our tent (and everyone else's) started to blow apart.
When the roof blew off, we all took cover. I jumped into the van to discover that my daughter, though safe and dry, was apparently in early labor. Okay, I said, maybe she's just stressed out. I actually looked at her and said, "Please don't have the baby now!"
It took quite a while, but we eventually got out of there and took Alyssa home to settle down and rest. But it turned out this was no false alarm, and we ended up going to the hospital the next day. The doctor took one look at her and said, "This baby isn't waiting until Friday." Because the baby was in the breech position, Alyssa had been scheduled for a planned c-section on Friday (September 2nd). Aria had other plans, however, and she decided she wanted to be an August baby after all.
Our family gathered at the hospital and waited together anxiously. At 7:19 p.m. on August 29th, we welcomed little Aria Grace Stadelman, healthy and sweet and perfect in every way. Mother and baby are doing well, and of course, we all are head over heels in love with the newest member of our family. I couldn't be a prouder mom/grandma!
Make sure you are the first to know about all of my news, appearances and any "special deals" I am offering to my subscribers, by taking the time to sign up for my weekly newsletters now. CLICK HERE to sign up. You will also receive a FREE slideshow showing the step-by-step development of my painting, "Celebrating Time and Tradition at Macy's".