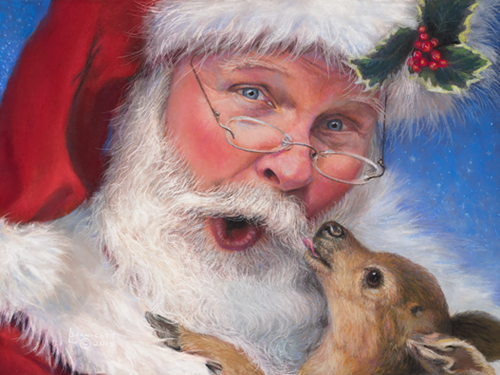 What a busy week this has been! After a fun and productive weekend at the Shadyside Arts Festival, it's time to get back to a serious painting schedule. I have so many projects to do before the end of the year!
First of all, I apologize for the confusion last week. There was a small communication glitch, but now my first holiday card in the Jolly Old Elf Series, "Shhhh!" is ready and available to purchase on my website. Just Click Here to purchase yours. The cards had a great kick-off last week at the Arts Festival. They're only available as a limited edition, so if you haven't purchased yours yet, order today to make sure you don't miss out!
So speaking of the Jolly Old Elf… if you remember, I told you that each year I'll be creating a new painting in that series as well as a smaller companion print each year to complement it. I'm excited to announce that I've just finished the companion print for "Shhhh!" this week! As promised, here's the slide show (at the top of this blog) documenting the progression from the sketch to the final print. And as always, you – my faithful readers – are the first to see it and the first to have the opportunity to purchase it.
This brand new painting is entitled "Santa's Newest Reindeer." For those of you who have purchased ahead the entire series, you will of course receive yours FREE! The print will retail for $70.00 and would make a perfect addition to your holiday home décor, or a perfect gift for a special friend or loved one who's a Santa fan. "Santa's Newest Reindeer" is irresistible!
By the way, did you notice something that is different between the sketch and the final painting? Can you guess what it is? Sometimes even a veteran artist has trouble getting the composition just right. This week, it was definitely my turn! This one thing drove me crazy, but in the end, I found a way around it.
I would love to hear your thoughts on my latest painting. Again, you can see it on my website; just Click Here. Or you can give me a call at 1-888-PITT-ART (1-888-748-8278), or email me at linda@lindabarnicott.com to reserve your copy today.
Make sure you are the first to know about all of my news, appearances and any "special deals" I am offering to my subscribers, by taking the time to sign up for my weekly newsletters now. CLICK HERE to sign up. You will also receive a FREE slideshow showing the step-by-step development of my painting, "Celebrating Time and Tradition at Macy's".