Welcome to the start of a new season! Not only is it Back-to-School time for the kids, but it's already about that time that most folks (well, at least most organized folks!) start planning for fall and winter holiday excitement.
It's also the time of year that, for the past 17 years, I would print my annual holiday card to benefit the American Cancer Society. As I told you back in May, that program has come to an end.
I was honored to be a part of their fundraising for all these years, and it was quite an emotional evening as we celebrated 17 years' worth of holiday paintings – starting with the Horne's Tree, all the way up to last year's festive Grant Street painting. Over the last 17 years, The American Cancer Society has earned over $750,000.00 from my holiday cards. And every bit of that has gone to cancer research and prevention.
But looking ahead to the future, it's a new year and a new holiday season – And I've created a brand new holiday card line of my very own for 2015 and beyond!
Unlike the ACS cards, my new Christmas cards will not be wintry Pittsburgh scenes… nor will they be tied in to a charity as they have been in the past. What I can tell you is that they do in fact feature a certain Jolly Old Elf!
Ironically, the first painting in the series does also feature a beloved soon-to-be-closed downtown landmark – Macy's and Kaufmann's Clock. I didn't know that the Downtown Macy's would be closing when I painted "Shhhh!" and decided to use one of my Kaufmann's paintings in the background! I chose it because it reminded me of my childhood, and it seemed like the perfect scene to share the canvas with Santa Claus – another childhood favorite!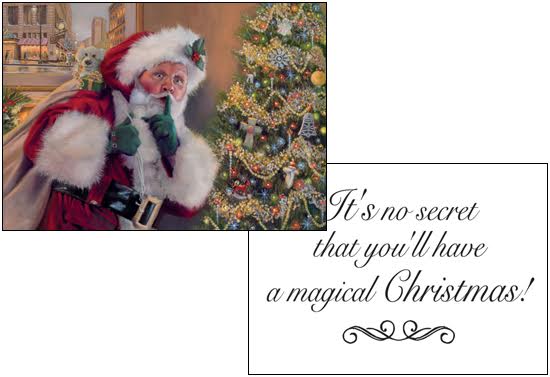 My new "Shhhh!" Christmas cards are now available for sale. Click here to learn more.
I'll also have some with me for sale this weekend at the Shadyside Arts Festival on Saturday and Sunday. Come see me if you can! If you purchase a box of cards at the Festival, I'll be happy to sign them all in gold for you. Check out my Calendar of Events for more details.
P.S. – If you visit me at the Arts Festival, I'll give you a secret sneak peek of the new companion print to "Shhhh!" entitled "Santa's Newest Reindeer!".
Make sure you are the first to know about all of my news, appearances and any "special deals" I am offering to my subscribers, by taking the time to sign up for my weekly newsletters now. CLICK HERE to sign up. You will also receive a FREE slideshow showing the step-by-step development of my painting, "Celebrating Time and Tradition at Macy's".