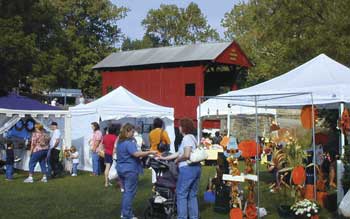 You may have noticed that my regularly scheduled newsletter is a little late this week! I got caught in a tight spot when I had a Thursday morning deadline on the Oakland Catholic High School project… then I had to hop on a plane to Nashville that afternoon to spend some time with my Mom. Which means I had to pack not only a week's worth of clothing, but (because this is a "working vacation") quite a few painting supplies as well. With all of that going on, there just wasn't time to sit down at the computer and put coherent thoughts together!
So here I am in Nashville, chilling with Mom and working on this year's Breathe Pennsylvania holiday print. This holiday season marks my fifth year supporting Breathe Pennsylvania. My subject this year is one that I've been longing to paint for ages – Ligonier's landmark Gazebo! "My Santa" will even be appearing in the picture, though he'll be in the background this time!
I'll be back next week in time to exhibit on Saturday and Sunday at the Washington County Covered Bridge Festival. My booth will be down by the creek at the Ebenezer Bridge. This is one of my favorite shows in a beautiful setting. Come on down and visit me! I'll have plenty of prints, cards, and giftware… because the holidays are right around the corner! (I know, too soon, right?)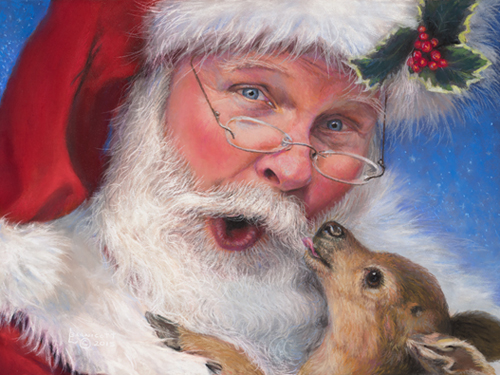 Speaking of the holidays, this week I sold the original painting of "Santa's Newest Reindeer," the smaller companion painting to "Shhhh!" (first of the Jolly Old Elf Series). In fact, the buyer was so caught up in the holiday spirit that he also committed to purchasing next year's original painting, the second in the series, where the subject will be Santa's Workshop. I feel very blessed to have had so much success with my originals.
More big news this week: My new 20-page catalog is hot off the presses! My entire product line that is available for purchase is featured there, now all in one convenient place. Visitors to my booth at the Covered Bridge Festival next week can pick up a complimentary copy. Or if you can't make it and would like to request a catalog, contact me by email at linda@lindabarnicott.com or call me at (412) 283-4072, and I'll send one out to you.
I'm looking forward to seeing many of my friends, fans, and clients during this busy Fall Festival Season, including another terrific show that's coming up soon – Fort Ligonier Days on October 9th through 11th. It's the perfect place for a day trip from Pittsburgh at fall foliage time. Check out my Calendar of Events to see where I will be this fall.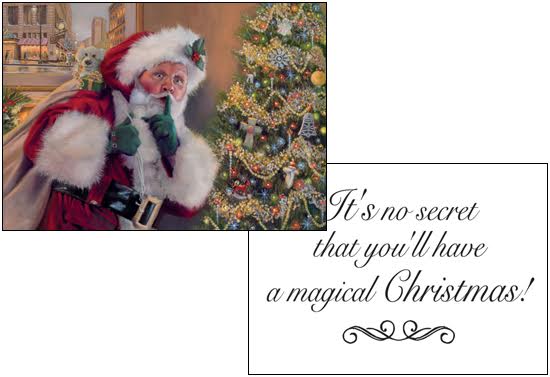 P.S. – My 2015 Christmas Cards are selling fast, even though we just put Labor Day behind us! This year's cards feature the first painting in the Jolly Old Elf series, "Shhhh!". They're available in boxes of 8 for $24 on my website. Click Here to purchase yours. They'll also be for sale at my shows this fall. If you come by in person, I'll be happy to personally sign your cards.
Make sure you are the first to know about all of my news, appearances and any "special deals" I am offering to my subscribers, by taking the time to sign up for my weekly newsletters now. CLICK HERE to sign up. You will also receive a FREE slideshow showing the step-by-step development of my painting, "Celebrating Time and Tradition at Macy's".