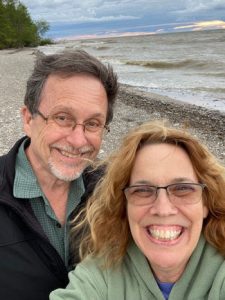 Have you ever wished you could find a special place where you could go to relax… and just be? Maybe a place that is not too far from home and is comfortable to live in? Well, Tom and I believe we may have finally found that place for us. Not far from Geneva-on-the-Lake is a cute little cottage that is just our size. We were there at the end of April for a few days, and this week we returned, and it was as great as we remembered it!
Lake Erie has a lot in common with Barnegat Bay (where we went on last week's trip).  At first glance, Lake Erie looks like a salt-water ocean (though I miss that salt scent in the air), and there can be large waves sometimes and none at all at other times, depending on the day. Both places have beautiful sunsets and give me a peaceful feeling. Being near the water is something so familiar to me that it's truly is a part of who I am.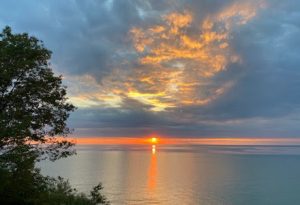 Something else "familiar" is coming soon… something rather jolly, in fact! If you're thinking "Wait, didn't the 'Jolly Old Elf' series end in 2019?", well… you'd be correct about that. I finished the last painting that year, and in 2020, I wrote a book about it. If you received one of the fifty limited-edition books, you may even remember a bookplate inside the cover with a pen-and-ink drawing of Santa in a very familiar pose.
So, your next question might be, "Why are you painting another Santa?" I'm so glad you asked!
Last year, my book in the end was delivered much later than expected (just two weeks before Christmas), in the midst of the COVID crisis, combined with the Post Office problems that were going on at that time. I still managed to sell over 100 books, which I think was pretty good under the circumstances.
Now that everything is starting to open up again, I plan to give my book a better launch this holiday season and will focus on getting the word out. My plan is to bundle the book and the new print together at a reasonable price. I'll also sell the print separately for those of you who have already bought the book. The new print will measure 9 x 12" – the same size as the five existing "companion" prints.
In all honesty, I have to admit I've missed painting that Jolly Old Elf! He let me borrow his Santa ring to add to the sketch, and I also borrowed his Book of Good Children. (Santa says that there are no bad children. That's why it's not a "Naughty and Nice Book!")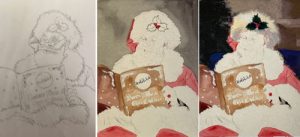 As you can see, I've already gotten started on the new painting – I loved painting the fur and the holly on the hat. My plan is to include a Christmas tree with old-fashioned candles on the branches of the tree to light the room. Keep watching, there will be more updates soon!