We Pittsburghers don't need a robin to tell us that Spring is coming – we know that the real first day of Spring here in the Burgh is Opening Day of the Pittsburgh Home and Garden Show!
Wow! Can it really have been a year since the last "Final Countdown" to Opening Day? Once again, I'm honored and delighted to be here with some of the nicest and most talented artists in Pittsburgh. I feel very blessed to have their friendship.
Though the Home and Garden Show is a highlight of my year, organizing, transporting, and setting up my booth every year is quite the challenge. It's a lot of hard work that involves multiple people, a ton of inventory, much heavy lifting, and even renting and driving a truck.
Tuesday was our big move-in day. Although there were only three of us unloading and setting up, we finished in record time. By 4:30, we were ready to go home. Then yesterday, my friend Ruth joined me to finish up setting up all the smaller gift items and finally dusting to make sure all my work looks its best.
So after 20+ years, I think I may have gotten the hang of it… somehow my helpers and I got it all together, set up, and ready to rock and roll 24 hours ahead of time!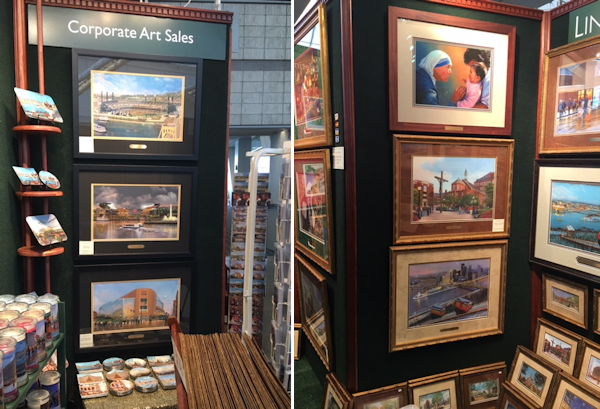 Yes, this is a first! I actually have enough time to relax a little today, getting myself ready for that adrenaline rush that will get me through a week and a half of 18-hour days. I was even able to squeeze in a little time to get my nails done this afternoon. So this year, when the doors open Friday morning for that big first weekend of the Home and Garden Show, I will be rested and ready, and my nails will be fabulous!
Yesterday, my husband (the world's best "assistant" and nicest guy) took what little time he had between meetings and drove to Beaver to pick up my two originals from the Courtney-Laughlin Gallery. They really outdid themselves with their fantastic framing work on "Santa's Joyride" and Hills Is Where The Toys Are." Tomorrow we'll bring these new paintings to the show and hang them in public for the very first time. I can't wait to show them to you!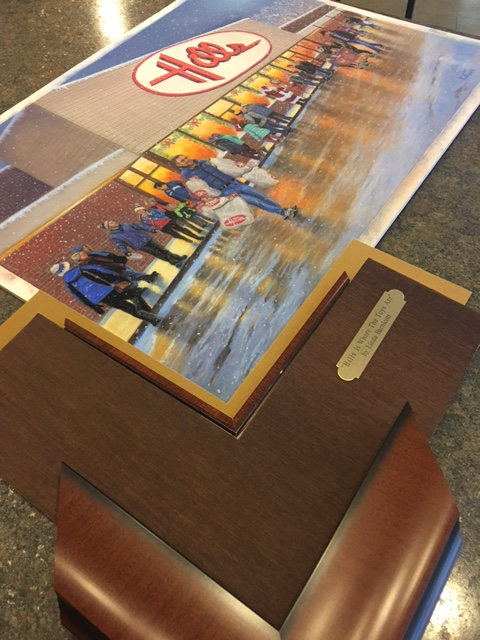 Though the forecast is for colder weather this weekend, here at the David L. Lawrence Convention Center, Spring has already arrived. There won't be any robins… but you can enjoy beautiful Spring flowers and dream of summer right now.
I hope you'll come on down to the Home and Garden Show this weekend to celebrate the arrival of "Pittsburgh Spring!" Be sure to stop by Booth #3146-8 and check out my newest paintings and giftware! CLICK HERE to view my Calendar of Events and find out more about this year's Home and Garden Show and other upcoming events.
Think Spring… and come to the show and let me help you with all your art decorating needs!
Make sure you are the first to know about all of my news, appearances and any "special deals" I am offering to my subscribers, by taking the time to sign up for my weekly newsletters now. CLICK HERE to sign up. You will also receive a FREE slideshow showing the step-by-step development of my painting, "Celebrating Time and Tradition at Macy's".