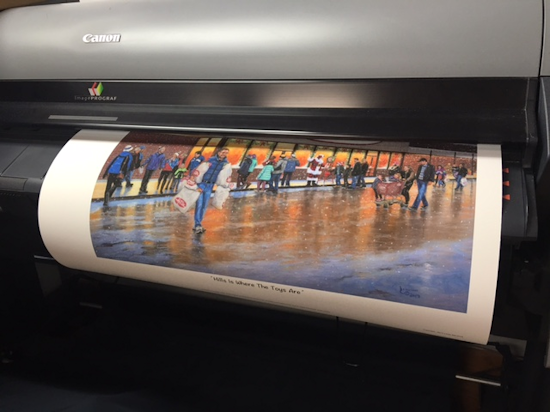 Welcome to my busiest week of the entire year!
Last week I announced the completion of my latest painting, "Hills Is Where The Toys Are," and I even showed you a visual timeline of how I created it. The photo above shows the very first print as it rolled off the press a few days ago before it was trimmed and signed – very exciting!
With just under two weeks until Opening Day of the Pittsburgh Home and Garden Show, I didn't have a moment to spare! Once I had the finished prints in hand, I headed straight for Pittsburgh Dad's house, where Dad personally signed the first 30 prints of the series to make them extra special!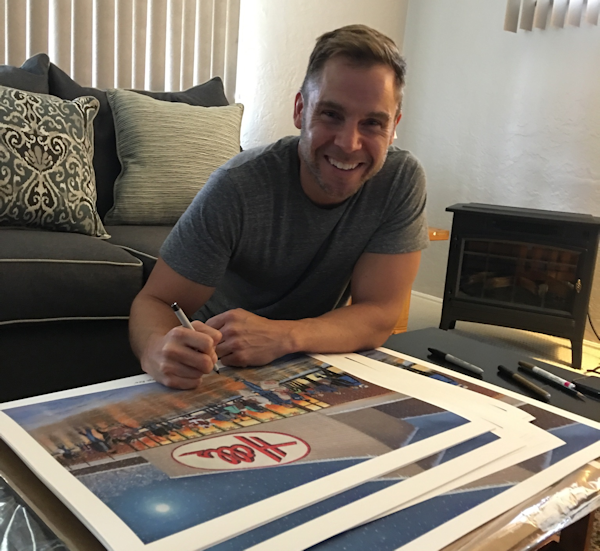 Speaking of Pittsburgh Dad, he was kind enough to Tweet to his followers about the painting on Sunday… which means that nearly 200,000 people could have seen it! Orders immediately began popping up on my website, which is why I sent out an early heads-up to my readers. If you would like one of the prints signed by Pittsburgh Dad, you definitely should pre-order now!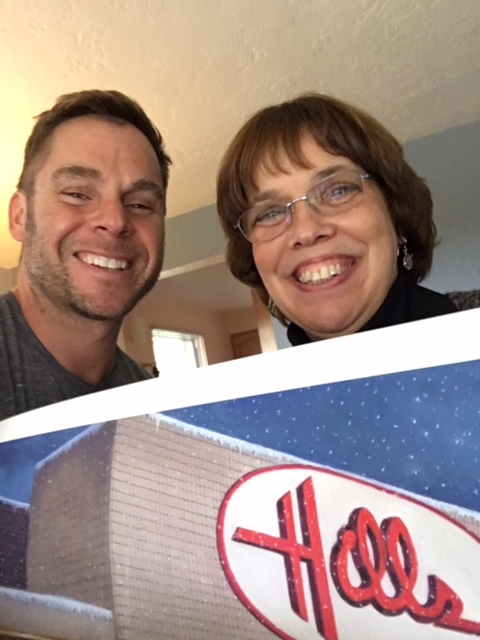 As always, the week before the Home and Garden Show, or as we call it, "Crunch Week," will be "all hands on deck!" Not only am I preparing for the big debut of my new Hills painting, but I'm also still creating some exciting new art gifts that you'll see for the first time at the show.
Also, two galleries are working overtime to make sure my booth is well stocked with beautiful framed pieces. Unframed prints are being mounted on boards for the bin. Booth cookies are being baked (very important!). And my staff has their marching orders.
But Monday is when the REAL fun begins! That night, Tom and I will pick up the truck. Then on Tuesday morning, we start moving everything – booth fixtures, paintings, bins, ornaments, candles, and more! – to Booth #3146 at the David L. Lawrence Convention Center. We really have to hustle, because everything must be in place by 10 a.m. Friday morning.
Then… it's showtime! So if you are planning a trip to the show, here are some tips:
~ For best selection, come earlier in the week while I'm fully stocked. The first Friday is always a slow day at the Home and Garden Show, so visit that day and get my full attention.
~ Visit my website, www.lindabarnicott.com, and do a little pre-shopping research before you come to the show. When you get to my booth, you'll already know what you're looking for. Can't make it to the show? No problem! You can order from my website.
~ Remember, there will also be unique pieces at the show that are not on the website and will only be available during the show. So come to the show!
I can't wait to greet you at Booth #3146 or see you online!
Make sure you are the first to know about all of my news, appearances and any "special deals" I am offering to my subscribers, by taking the time to sign up for my weekly newsletters now. CLICK HERE to sign up. You will also receive a FREE slideshow showing the step-by-step development of my painting, "Celebrating Time and Tradition at Macy's".