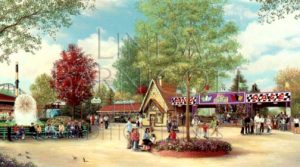 For some reason, my painting "Riding Kennywood's Auto Race and Train" has been on my mind this week… perhaps because it reminds me of some of my favorite Kennywood memories.
One feature of the painting is a part of the park that's very special to me, and it's not even a ride! Each spring, I eagerly look forward to seeing the flower clock – with all the rides and people and noise, it just feels like a breath of freshness. I suppose it's the gardener in me. I love the flowers and how each year they design the clock differently.
Why did I decide to paint the Auto Race instead of a more prominent ride? Truth be told, it's actually my favorite ride in the park. I loved riding with my girls when they were young. The old-fashioned wooden track and retro cars were charming, the ride was fast and exhilarating, and we loved waving to Daddy.
I couldn't wait until last year when my granddaughter was finally old enough to ride, and I could ride it again with her. Maybe next year I can ride it two more times – one with each of the twins!
I also have many precious memories of riding the train, formerly known as the Olde Kennywood Railroad. That little train with the fabulous river view (and a local history lesson as well – there were even Revolutionary War soldiers!) was my "Old Reliable" – when I was pregnant and couldn't ride much else, it was my go-to ride. I loved seeing the history of Pittsburgh's steel industry, with the US Steel Edgar Thomson works just across the river and the old Joe Magarac statue, standing so tall and mighty. It was especially lovely to ride at twilight – the magnificent view with the lights shimmering on the river was breathtaking.
But one of my favorite parts of the train ride was "Laffin' Sal" – a rather creepy mechanical woman with a crazed raucous laugh. At that time, Sal occupied the "ticket office" at the train station, but over the years, she has been placed at various attractions around the park.
I think she was my favorite because of a story Tom told me – when he was a little boy, Sal was located right by the entrance. Her manic laugh scared the pants off poor little Tommy, and he would get away from her as fast as he could, silently shaking in his boots. So as a bit of a tease, I took great joy in painting her into the piece. Sal has moved to the Penny Arcade now, but some still say she's the scariest attraction in the park!
If you look in the background, you can also see the park's mascot, Kenny Kangaroo. I made sure to place Kenny in my Kennywood paintings whenever I could. I've gotten to know a couple of the park employees who played Kenny over the years, and it's always a pleasure to talk with them. They certainly have some stories to tell!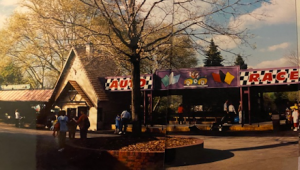 As usual, a number of people served as models for "Riding Kennywood's Auto Race and Train," including someone very special who has recently passed away. Fred Weber, Kennywood's maintenance chief, was one of the kindest men I've ever met. He was a fatherly type who knew how to keep the coasters soaring (and the trains running on time!). Fred had retired not long before I created this painting (I had photographed him walking near the train with his daughter the previous summer). As he rests from his labors, I like to think that I have celebrated his life and friendship in this particular painting.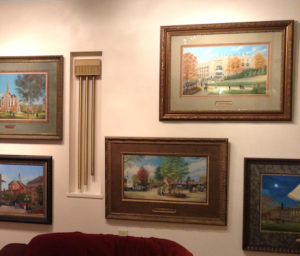 "Riding Kennywood's Auto Race and Train" is one of only two originals from the Kennywood series that I still have here in my home gallery. I get to enjoy them myself until they're sold. When anyone asks, I tell them my originals live on my walls until they find a happy home. Some I get to keep longer than others; I make no apologies!
The framing is exquisite on this one, too. I like to think about how this painting will be around for centuries. It won't fade or crack like oils often do, though the painting is pure pigment, the same that is in oils. Of course, the prints are beautiful, too! But there's something about originals… they just have a special look about them.