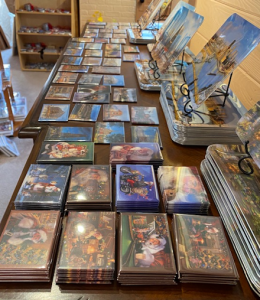 Ever wonder where magnets come from?  Legend has it that they were first discovered about 4000 years ago in Magnesia in ancient Greece when a shepherd happened to step onto a rock, and the iron nails in his sandals got stuck there.
Magnets have been around for thousands of years and used in many ways, in everything from false eyelashes to watches, from medical devices to entertainment (magicians in Ancient Egypt used them to create the illusion of objects floating in mid-air).  Personally, my favorite way to use magnets is to create "Kitchen Art!"
Magnets are my thing. I have tons of them!  It all started when a fellow artist at the Pittsburgh Home and Garden Show showed me how he had gotten magnets made of his photographs.
I love the idea of creating your own little mini art gallery on your refrigerator, and I'm definitely not the only one who is a fan of Kitchen Art.  What I like best is when you have young children or grandchildren like I do, you can use my magnets – they're very strong and pretty to look at! – to display your kids' artwork.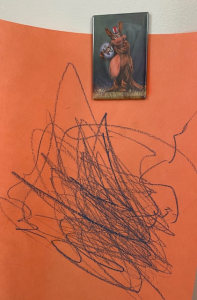 I hear stories from people who collect my magnets to use in their office space, turning it into a little personal art gallery.  In fact, UPMC just bought 30 of my magnets for their new hires.
Others have used them as thank-you gifts for clients or gifts for family and friends who are Pittsburgh expatriates.  And a new Christmas store that will soon be opening in Monongahela just bought a ton of my Santa magnets!
Another great idea is to enclose a magnet with a holiday card or tuck one into a Christmas stocking.  For instance, one of my clients collected my Kennywood magnets for all of her children as a special little gift on Christmas morning.
The magnet shopping experience on my website just got a makeover!  I used to sell magnet bundles in groups like sports, amusement parks, or Pittsburgh scenes.  Now you can choose your own bundle of any 5 magnets – just pick your favorites and mix and match them any way you like.
Which magnets would be in your Top Five?  Click here to see the entire gallery!