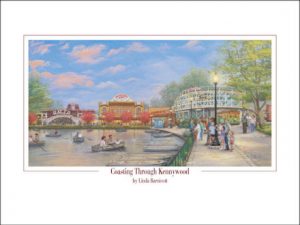 After 31 years of painting Pittsburgh, a lot of people ask me which one of the paintings is my favorite. I always answer that it's a no-brainer – "Coasting Through Kennywood" is the hands-down winner because I filled it with so many happy memories, secret messages, and beloved family and friends.
It seems like just yesterday, on my very first visit to Pittsburgh (and to Kennywood) in 1977, when a much-younger Tom and I stood on the bridge overlooking the lagoon, watching people paddling around in the old aluminum boats. (Does anyone else still remember the aluminum dust that would get on the bottom of your jeans after riding the boats?) But mostly we only had eyes for each other! As we leaned on the wrought iron fence, I told Tom about two dreams I had had earlier in the week.
In the first dream, he had bought me a gaudy blue and white plastic engagement ring – like something you'd find in a bubblegum machine. The second dream was about us going to a Justice of the Peace to get married, and while we were sitting in the waiting room, a newly married couple came through the double doors. We asked them how their ceremony had gone, and they said, "We felt like we were cattle – herded in and herded out. Go to a church and get married!" Keep in mind, we had only known each other for about three months, and this was basically our third date.
Meanwhile, Tom just stared at me. He appeared flabbergasted, turned on his heel and walked away, leaving me alone on the bridge. I immediately regretted sharing the dreams with him – I was afraid I had scared him off! What I didn't know was that Tom had been waiting for just the right time to propose to me, and he was a nervous wreck all day. My strangely prophetic matrimonial dreams really threw him a curve ball!
Spoiler alert: He did propose to me the next night, just five minutes before I boarded the plane to go home to New Jersey.
This painting also has a "secret message" – the aluminum boat labeled #22. I don't know if there was an actual boat #22 in the Kennywood fleet, but I picked that number because it has a special meaning for us. When Tom and I first met, he sold shoes at South Hills Village in Upper St. Clair. As a matter of fact, we often said that selling shoes prepared him for ministry because it kept him on his knees, and he had to work with soles (souls)!
Tom was such a super salesman that his coworkers nicknamed him "Cuda" – short for Barracuda. His employee number at the store was #22, and he had a habit of writing "22" on some of his dollar bills.
So back in May, on our first date in New Jersey where I lived at that time, he accompanied me on a college art project deep in the rural farmland near New Hope, Pennsylvania. Not knowing that Tom didn't know one end of a screwdriver from the other, I asked him to help me tear down a chicken coop and cut down part of a tree.
He was pretty relieved when it was time to take a break, and we took a ride in the woods. We came across a little ice cream place called Dilly's. After we ordered, the girl behind the counter gave Tom his change, and written on the bill (in Tom's handwriting) was his number 22. That bill had made it all the way across the state, making the day even more amazing, more magical!
The people in Boat #22 are very dear friends of ours. The little blonde girl who is pointing grew up with my daughter Alyssa (who is shown in the striped shirt and red shorts standing by Tom and Brittany on the right). Believe it or not, when they posed for this painting, it wasn't in a rowboat at Kennywood – it was in their backyard, sitting on a picnic bench.
Michael, the dad, was holding an old broom and a broken rake as a substitute for oars. Unlike a photographer, I have a little creative license when it comes to setting the stage for a painting!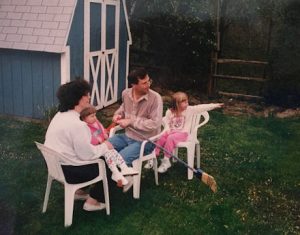 I put many other "real" people in "Coasting Through Kennywood," including my lifelong friends who were visiting us. You can see them standing by the lamppost behind Tom and the girls. Everyone in this painting is very special to me, including my first mentor who sadly lost his life to cancer at the age of 49. He was a graphic artist, inventor, and the owner of the biggest, heartiest laugh I've ever heard. I like to think he lives on in my painting, looking out over the lake near the Jack Rabbit.
This is also the first time that Kenny Kangaroo, Kennywood's mascot, makes an appearance in one of my paintings. You may also notice that this is the area where my tent used to stand during the Grand Victorian Festival and Celebrate America, Kennywood's annual summer celebrations. For 18 years, I was a part of the family fun at these special festivals, along with jugglers, mimes, and musicians.
In fact, I met some of the nicest people in Pittsburgh on that very spot. The Kennywood Trolley, which often passed by my tent during parades at the park, is also part of the composition.
A collector once asked how much I wanted for the original painting of "Coasting Through Kennywood." All I could say was "Sorry, it's not for sale." Then I had to explain to Tom why I couldn't sell it… and of course, he understood. The painting is just so full of special people and treasured memories, we decided it would have to remain in our personal collection.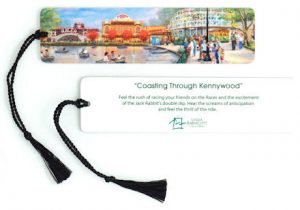 Does "Coasting through Kennywood" remind you of summer fun? The print is available on my website (as well as cards, magnets and bookmarks) at www.lindabarnicott.com.