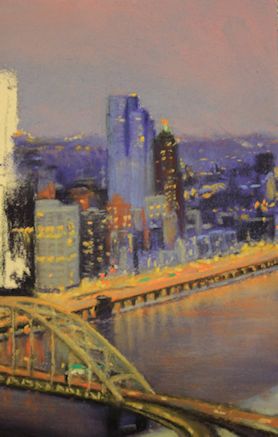 Though things start getting very busy in October, the real push starts in November when I seem to have one show after another through the end of the year. In fact, I have a saying about my creative process that holds true each and every year:
"If I don't have a painting finished by November 1st, it will not get finished until January.".
It's sad, but true… And I have a theory about why that happens. It's because, like everyone else, my brain has two sides – one side is the creative side that imagines the paintings and creates them. The other side is the side that loves to go out and meet folks just like you and connect people with the perfect piece of artwork that fills their needs. I definitely love using both sides of my brain for different reasons, and they truly are separate from each other.
I enjoy exercising each side equally, but every November and December with all my commitments, the creative side of my brain gets put on hold.
That being said… for now, I'm in "The Zone" once again, still burning the midnight oil! I have just one more piece to finish before the end-of-the-year rush. The painting I'm working on now is especially challenging because the buildings in the background are so small, and there are so many of them. And as I promised, you're the first to see a sneak peek of a small part of the piece (at the top of this page). The actual focus of the painting will be on the Duquesne incline cars passing each other, and I hope to be ready to show that to you next week!
This will be the fourth in a series of my holiday prints for Breathe Pennsylvania, a wonderful charity that works with children and adults with asthma and COPD. The first three paintings in the series are offered on my website (visit my prints for sale page), as well as the companion ornaments (visit my collectibles for sale page), which you can purchase together or separately.

The next step is to finish this last painting of the year and create a title for it. Any suggestions?
Why not take the time to sign up for my weekly newsletters now. As a subscriber you will receive information about all of my fall and holiday appearances, my latest paintings and special offers only for subscribers! CLICK HERE to sign up. You will also receive a FREE slideshow showing the step-by-step development of my painting, "Celebrating Time and Tradition at Macy's".