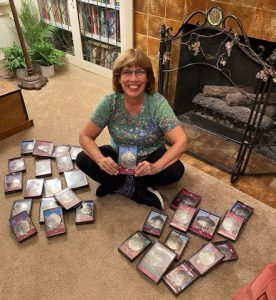 We had a wonderful summer, traveling, relaxing, and getting a lot of projects done around the house. Now that the girls are back in school, and after celebrating Aria's 6th birthday on Monday, I was finally ready to get back to work.
And… there is a ton of news!!
It couldn't have been a more perfect day for a road trip, and Tom and I headed up to Wendell August Forge in
Grove City. We loaded up our van with hundreds of etched-metal ornaments with themes of Pittsburgh, Kennywood
Park, sports stadiums, and (of course) Santa! It's lovely to have everything back in stock again!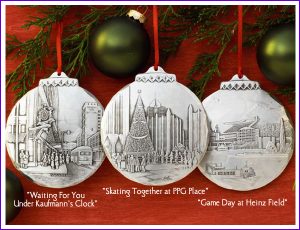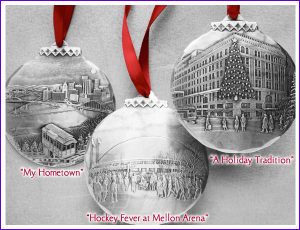 These photos are just a sampling – you can see all of my etched-metal ornaments on my website, www.lindabarnicott.com. Unfortunately, my "Laughing Through Kennywood's Le Cachot" ornament is permanently retired and will soon be removed from my site. So don't look for that one this year.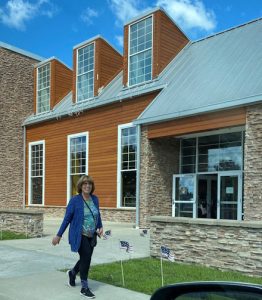 While we were at Wendell August Forge, we sat down with their President, Christian Werner, and talked about our partnership going into the future. Let's just say that there will be some exciting news coming soon for all of you ornament collectors. In the meantime, keep watching and reading!
Tomorrow, I'm meeting with Jack Cohen, owner of S.W. Randall Toyes and Giftes Downtown on Smithfield Street. I can't wait to show him my progress on the painting and to ask a few questions about the store (especially the front window). I'm looking forward to getting his input.
This week I've finally been able to really focus on the painting again, and it's coming along nicely. I think it really pops off the museum-quality pastel board.  When finished, the painting will be 12 x 16 inches in size. I hope to have it finished in the next few weeks.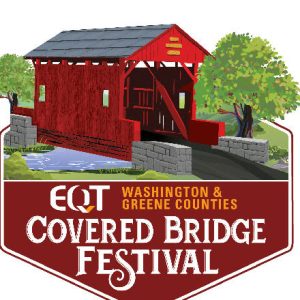 Once again – believe it or not – it's Fall Festival time! My first show of the season is coming up in just a couple weeks. I'll be at the Ebenezer Covered Bridge at Mingo Park in Washington County. The Ebenezer site is part of the 51st Annual EQT Washington & Greene Counties Covered Bridge Festival on Saturday and Sunday, September 17th and 18th.
My new "Remembering the O" puzzle, as well as my latest painting, "Pittsburgh at First Light" will make their debuts at that show… so don't forget to mark your calendars!
Yesterday was the release date of "Pittsburgh at First Light," and while I was at the post office to ship the pre-ordered prints, I had to wait a long time in line. As I was waiting to mail my tower of parcels, I heard that the Postal Service prices for shipping packages will be going up between November and January. I mention this to let you know if you're not in the Pittsburgh area and would like to order gifts from my site for the holidays, you may want to do your shopping early… just a heads-up!