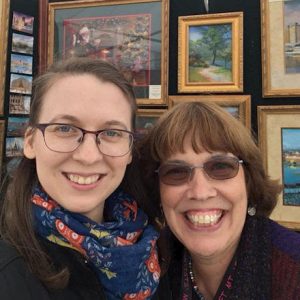 It looks like fall has finally arrived, and with it comes my busiest season!
Last week, I had my booth set-up at the Ebenezer Covered Bridge Festival, and I have to say it was another phenomenal show! To all of you who came out to see me, your support is much appreciated. It always puts a smile on my face and in my heart.
Next up is the Mt. Lebanon Artist Market this weekend on October 2nd and 3rd. My art booth (#214) will be located in the in the Academy Avenue parking lot. The closest address for your GPS is 620 Washington Rd., Pittsburgh 15228.  Show hours are from 10 a.m. to 5 p.m. both days.
This show always features exceptional talent, and every year I'm impressed by the beautiful creations of the artists who are accepted into the event. Also, the food trucks are really good and offer a diverse selection with something for everyone! Let's pray for sunny weather, no wind, and a big turnout!
Now for some big news…
I'm releasing a new product line soon – it's something I've been wanting to do for about three years, and it's finally happening!  I'm very excited to tell you about it, but I'll have to keep you guessing for just a little while longer.  All will be revealed soon!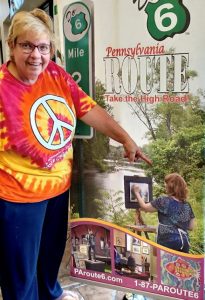 P.S. – Looks like I was spotted along Route 6 in Northern Pennsylvania!
Years ago, I took a painting trip along Route 6 and created several pieces from beautiful towns and scenes along the way. Dear friends of ours were traveling and stopped at the Pennsylvania Visitors' Center near Tioga near the New York border. They thought it would be fun to send me this picture, and I wanted to share it with you, too.  It was a delightful surprise!