Still here at Booth 3146 at the Home and Garden Show until Sunday. What an exciting week I've had here at the David L. Lawrence Convention Center! It's been a treat to have so many of you visiting me at my booth!
One of the highlights of the show this year for me was having had the honor (and fun) of meeting Pittsburgh Dad! As soon as he realized who I was, he immediately shook my hand and told me that his mom had my paintings in her home! There was definitely some "Pittsburgh Chemistry" going on! If you're a fan of Pittsburgh Dad on YouTube, you know he's a talented actor and one of the funniest guys out there. But if you're lucky enough to meet him, you'll see that underneath the gruff Pittsburgh Dad exterior, he's really a very warm-hearted gentleman.
I also felt especially honored when Santa (though he's officially on vacation) made a special stop to visit me at my booth. As you can see, Santa was also excited to meet Pittsburgh Dad!
Now I'd like to tell you about a very special experience I had at the Home Show this week…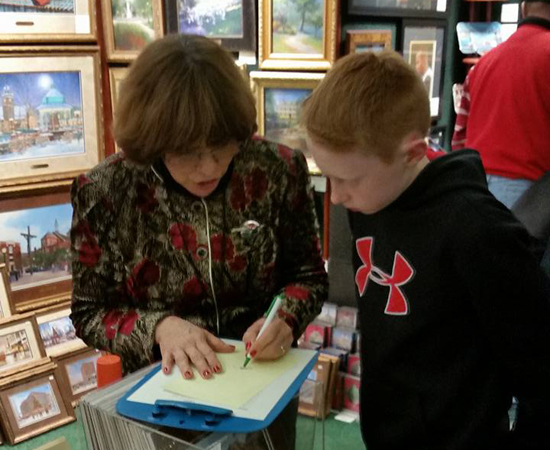 On Saturday, a young boy came into my booth with his parents and was looking around at my art work. I walked up to him and asked him if he liked to draw. When he said yes, I asked him kinds of things he liked to draw. "Do you like to draw things, places, or people?" His response was "People are hard to paint." I explained that painting people is just like painting anything else… they're made out of shapes.
Then I asked him if he would like me to show him how to draw an eye, and he excitedly said "Yes!"
With pen and yellow-lined paper in hand, we had an impromptu art lesson. He was so sweet and attentive. As I finished each part of the eye, I asked him if he understood what I just drew. Each time he said he did, with a serious look on his face. I sincerely hope that as this young boy develops as an artist that he remembers the night when he learned to draw an eye.
So, as we head into this final Home Show weekend, I want to remind you that you'll receive $10 in Linda Loot for every $100 spent. It's like FREE MONEY! I don't make an offer like this at any other time during the year, so come on down and let me help you decorate or choose a special gift!
Make sure you are the first to know about all of my news, appearances and any "special deals" I am offering to my subscribers, by taking the time to sign up for my weekly newsletters now. CLICK HERE to sign up. You will also receive a FREE slideshow showing the step-by-step development of my painting, "Celebrating Time and Tradition at Macy's".