I don't usually reach out to you twice in one week, but I couldn't wait to share the news…
I'm launching my newest product line – beautiful high-end, long-burning scented candles paired with some of my most popular paintings.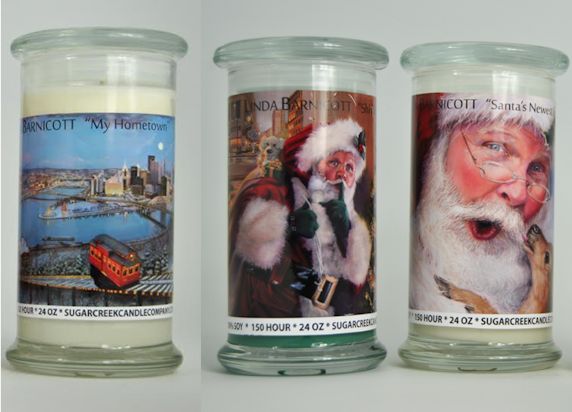 Each candle comes in a glass jar encircled by one of my paintings so that the beauty of the art is illuminated from within by the candle's glow.
These luxury candles (created in partnership with the Sugar Creek Candle Company) are 100% soy with a clean-burning 100% cotton wick and will burn for 150 hours… yet the price is considerably less than that of our biggest candle competitor!
The first ones are now ready – just in time for the last weekend of the Home and Garden Show at the David L. Lawrence Convention Center. If you come to the show today, tomorrow, or Sunday, you can be among the first to start your collection.
I can't wait to show them off! Come visit me at Booth #3146 at the Home and Garden Show, have a sniff, and take one of my new candles home with you.
Make sure you are the first to know about all of my news, appearances and any "special deals" I am offering to my subscribers, by taking the time to sign up for my weekly newsletters now. CLICK HERE to sign up. You will also receive a FREE slideshow showing the step-by-step development of my painting, "Celebrating Time and Tradition at Macy's".