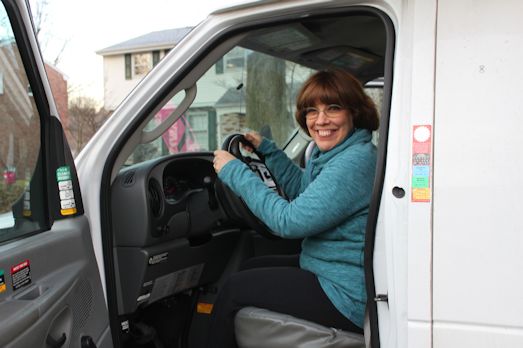 In case I haven't mentioned it lately, my husband Tom is the BEST.
The week before the Home and Garden Show is my busiest week of the year, and I couldn't do it without Tom! He's my greatest helper/partner despite having to work double time with his church duties. Those last few days before the show are pretty rough, getting everything moved, set up, and organized, and I can always count on him to support me every step of the way!
And it's not just Tom that I rely on. Once we rented the truck on Tuesday, my wonderful friends helped us fill it up and then unpack it all at the Convention Center. I'm even greeted with hugs by the same union workers who help me move in every year! And I couldn't survive without my booth staff during all those long hours at the show.
It would be impossible to do it all by myself, and I want to thank everyone who works so hard each year to help me make the Home and Garden Show a success… especially Tom!

So here we are on the eve of opening day, and I still have a lot to do before Friday morning. Fortunately, the adrenaline is kicking in just in time to put the finishing touches on what feels like my own little pop-up storefront (for the next 10 days, anyway!).
As I mentioned last week, I've brought a lot of unique and special pieces this year, including some of my original landscapes and an old 1994 original painting of Old Town.
Old Town is a magical composite of different Pittsburgh neighborhoods that incorporates songs by local singer Jay Hitt – in fact, there are 33 references in the painting to songs on the CD.
I've searched high and low in my studio for that CD, but I can't find it… which is killing me because I really wanted to share it with you at my booth. Of course, you know it will resurface sometime after the show is over! However, if you just stop by to visit me at the Home and Garden Show, I'll tell you some of the stories as I remember them.
Speaking of stopping by… I'm offering another special for my booth visitors. For the entire duration of the show, everyone who visits my booth and makes a purchase will receive Linda Loot.
Here is how it works: For every $100.00 spent, you will receive $10.00 in Linda Loot to use on a future purchase (redeemable from March 15th through April 3rd). The more you spend, the more you receive in Linda Loot!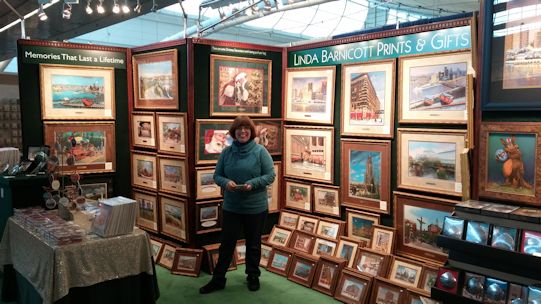 Tomorrow's the big day! I'll be waiting for you at Booth #3146 at the Pittsburgh Home and Garden Show at the David L Lawrence Convention Center. Hope to see you there!
Make sure you are the first to know about all of my news, appearances and any "special deals" I am offering to my subscribers, by taking the time to sign up for my weekly newsletters now. CLICK HERE to sign up. You will also receive a FREE slideshow showing the step-by-step development of my painting, "Celebrating Time and Tradition at Macy's".