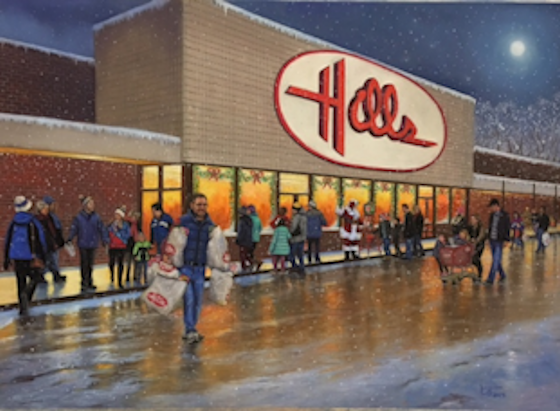 What a week this has been! I was submerged in The Painting Zone and didn't surface until today. Last night – very, very late last night! – I finished my new painting, "Hills Is Where the Toys Are."
The painting got started with a seed that was planted last year at the Home and Garden Show (see what I did there?). When I found out that Pittsburgh Dad would also be appearing at the show, I knew I had to find a way to meet him! When I caught sight of Dad and his producer, Chris Preksta, in the Great Hall, I rushed over to greet them. The first thing I noticed that he was wearing a T-shirt with the Hills logo on it. I have to tell you, I felt a sharp pang of nostalgia when I saw that T-shirt.
Then as I talked with Pittsburgh Dad, he broke character (in real life, he's actually actor Curt Wootton) to tell me how his wife's parents' house is full of my paintings, especially my Kennywood series. Both Curt and Chris were delightful, though it seemed a little weird that Curt doesn't actually speak in Pittsburghese!
We kicked around the idea of a Pittsburgh Dad portrait for a bit, then the subject turned to how Curt and Chris had so many happy memories of the late lamented Hills stores. It reminded me of how people of my generation get nostalgic and sentimental when they talk about their own memories from younger days of downtown shopping at Kaufmann's, Horne's, and Gimbels.
And that was how the idea was born…
When I got home that day, the first thing I did was look up the Pittsburgh Dad YouTube episode where Dad goes "Back to the Future." (https://www.youtube.com/watch?v=7PiOM3EdKKg) Dad's first stop on his time travels was Hills Department Store, circa 1989. Then I thought… "Wouldn't it be fun to do a painting featuring Dad doing his Christmas shopping at Hills?"
After that, it was just a matter of a few phone calls, and then in January we were gathering our entire cast in a parking lot for the photo shoot. It was a perfect early morning for a location shoot just after sunrise with our models dressed for the holidays and ready to pose.
As I painted the piece, I was constantly sending pix of its progress to my models so they could see their images and the painting overall evolve. See it for yourself!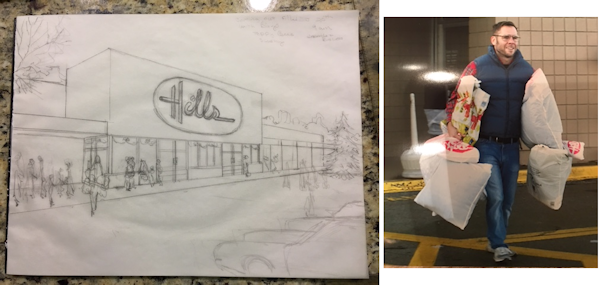 It started with a concept sketch… Then I added Pittsburgh Dad.

I painted pastels over a watercolor wash… Then I painted all the elements in the painting.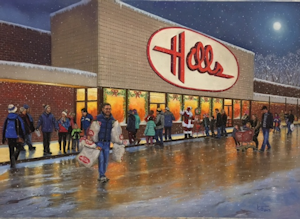 Finally, I added the "magic"
This last week was all about the adding the "magic," as I created the final special touches of the sparkle of a winter's night.
I'll let you know when the prints are available on my website, and of course they'll be available at the Home and Garden Show in March. But in the meantime, if you want to pre-order this limited edition print, just send me an email at info@lindabarnicott.com or give me a call at 1-888-PITT-ART (1-888-748-8278), and I'll add you to the list.
P.S. – The Pittsburgh Home and Garden Show begins just two weeks from tomorrow! Can't wait to see you there. CLICK HERE to view my Calendar of Events and find out more about this year's Home and Garden Show and other upcoming events.
Make sure you are the first to know about all of my news, appearances and any "special deals" I am offering to my subscribers, by taking the time to sign up for my weekly newsletters now. CLICK HERE to sign up. You will also receive a FREE slideshow showing the step-by-step development of my painting, "Celebrating Time and Tradition at Macy's".