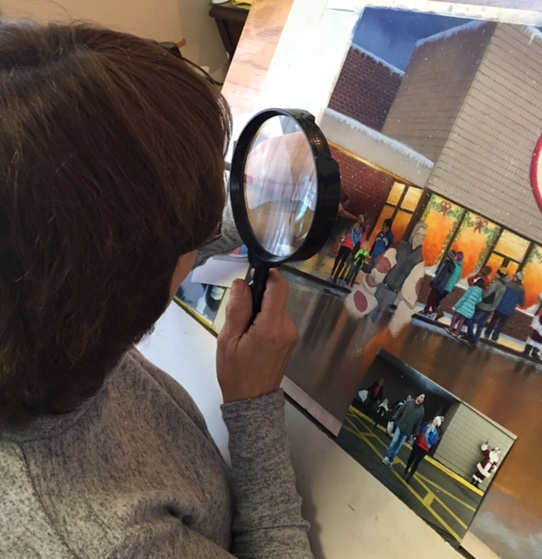 This week I'm working on what I call the "excitement" in my new painting – filling in the tiny details of the Hills Christmas shoppers as they come and go. One by one, I'm working my way through the crowd, finishing each of the figures. Just three people are left to paint… including Pittsburgh Dad! The poor guy is overloaded with bags full of toys and struggling to carry them all. If all goes well, I'll finish this weekend… wish me luck!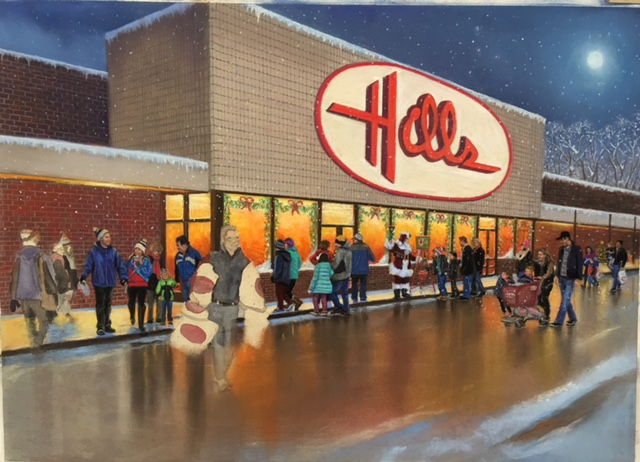 I've also been working on new giftware that will debut at the Pittsburgh Home and Garden Show. I hope you can make it there to see what's new this year. Can you believe it's just three weeks away? Despite what the calendar and the groundhog tell us, Pittsburghers know that spring arrives with the Home and Garden Show! Opening day is Friday, March 10th at the David L. Lawrence Convention Center. CLICK HERE to view my Calendar of Events and find out more about this year's Home and Garden Show and other upcoming events.
As I mentioned last week, I'm closing out my entire inventory of ceramic ornaments. Two more ornaments are now completely sold out just in the last week, so if you have your eye on a particular ornament, don't waste another minute! CLICK HERE right now and make your purchase.
Remember, all ceramic ornaments must go, and the selection is becoming very limited. Some are already completely sold out, and some have only one or two remaining. I have more of some designs because they were re-stocked just before December 25th.
The ornaments are available on a first-come-first-served basis. If the ornament of your choice has already sold out before your order reaches me, I will call you personally for your second choice. By the time the Home and Garden Show opens, many of the ornaments will no longer be available, so act now!
P.S. – Look who is sitting up these days… Already?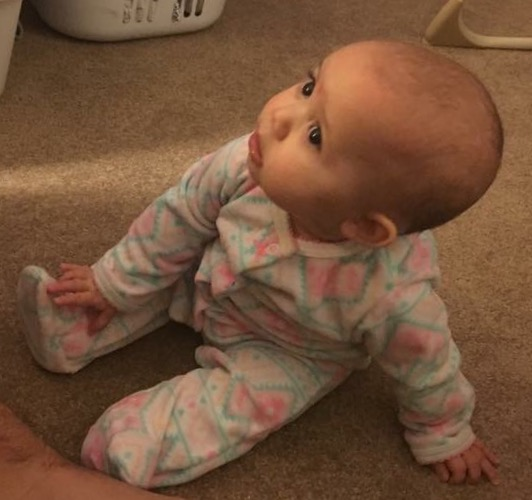 Make sure you are the first to know about all of my news, appearances and any "special deals" I am offering to my subscribers, by taking the time to sign up for my weekly newsletters now. CLICK HERE to sign up. You will also receive a FREE slideshow showing the step-by-step development of my painting, "Celebrating Time and Tradition at Macy's".