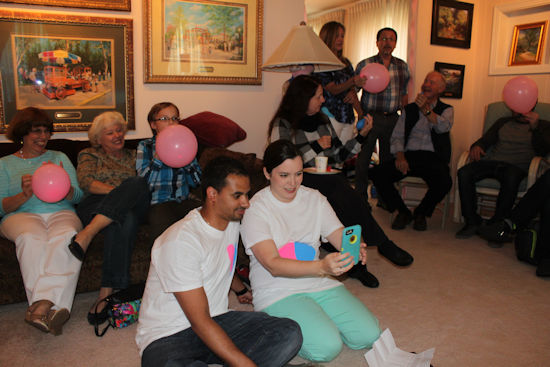 It seems like I'm writing a lot of Mother's Day themed blogs lately. Maybe it's because this year I'm a very happy Grandma-to-Be!
This week we had 25 friends over on Saturday for the Big Reveal – my daughter Alyssa announced that she and Jon are having a baby girl whose name will be Aria Grace. The reveal was done in a really cute way – Alyssa handed out both pink and blue balloons, and everyone was asked to blow them up at the same time.
It soon became obvious that only the pink ones were blowing up, meaning that a baby girl was on the way… that's because we put holes in the blue ones!
Looks like the word is getting out about my new line of candles! The Sugar Creek Candle Company now has my designs available on their website. If you're looking for a nice Mother's Day gift (or if you're a mom who just wants to treat herself!), check them out.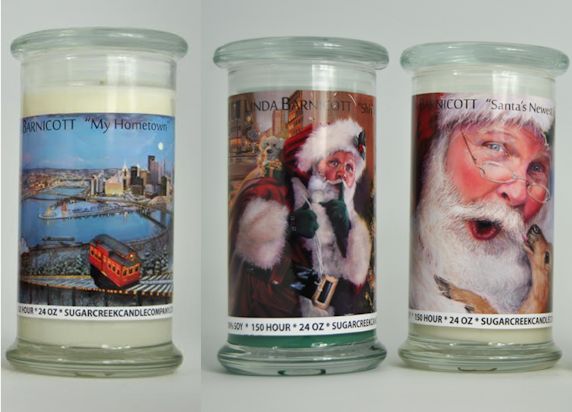 On this Mother's Day, don't forget to honor the "mom" you love with a gift that will bring back warm memories of your times together. You can purchase the Sugar Creek Candle Company Candles and a multitude of other gifts with Pittsburgh memories for you to share on this website. CLICK HERE to start your shopping!
If you would like me to personally sign your gift, just leave a note in the Special Instructions section of the order form.
I'm off again this week… this time I'm in Florida for a business conference. There's so much out there to learn! Wish me luck!
Make sure you are the first to know about all of my news, appearances and any "special deals" I am offering to my subscribers, by taking the time to sign up for my weekly newsletters now. CLICK HERE to sign up. You will also receive a FREE slideshow showing the step-by-step development of my painting, "Celebrating Time and Tradition at Macy's".