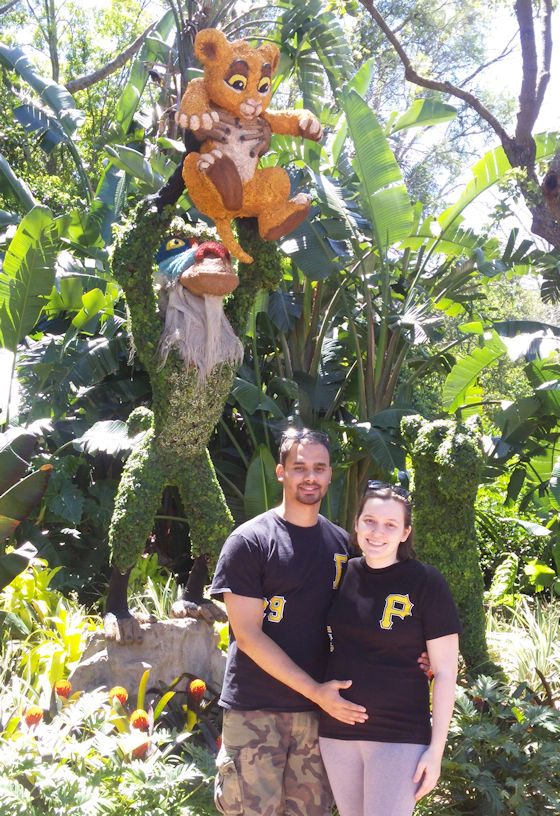 This week one of my clients asked me "Have you noticed how much younger grandparents are becoming these days?" I had a good laugh, as I just celebrated my 58th birthday – and I definitely agree that we're getting younger all the time!
As you probably know, my daughter Alyssa and her husband Jon are having a baby in September. And with Alyssa as a mother-to-be and me about to become a grandmother for the very first time, Mother's Day is especially meaningful to me this year.
One of my favorite Mother's Day memories is from Kennywood Park, the subject of many of my best-known paintings. One year, although the subject of my new painting was going to be Kennywood's Fall Fantasy Parade, I actually did the posing for the painting with my friends, family, and park employees on Mother's Day weekend.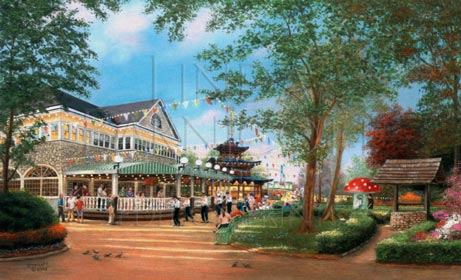 The inspiration for "Celebrating Kennywood's Fall Fantasy" came from the many years that Tom and I visited Kennywood late in the season to see the different school bands march and play in the Fall Fantasy Parade.
Tom would reminisce about his teenage years in the Bethel Park High School Marching Band and how much fun he had… how his family sat up on the patio of the restaurant and cheered him on as the parade passed by… and how the park was bedazzled with colorful lights and banners and wonderful floats that delighted children and adults from all over the Pittsburgh area.
When I planned the painting, I had to make a tough decision… which high school band would I put in the scene? There were so many wonderful bands that played at the park, I just couldn't make up my mind. Plus, I was certain that if I featured just one school band, I'd get hate mail from all the others!
Fortunately, there was an easy solution. At the time, Kennywood had its own little band of percussion and brass, so I took the coward's way out and painted them at the head of the parade.
Though the painting was about Fall Fantasy, it was actually on Mother's Day weekend that I posed Tom and Alyssa at the mushroom fountain getting a drink of water. My older daughter, Brittany, is sitting on the restaurant patio with my father standing beside her. Dale Hertrick, Tom's best friend from Bethel Park High School, is there with his family, standing below the patio on the far left. Mike Seaman, the manager at that time, is on their right. The park benches are populated by some of our oldest friends, and the patio above is filled with park employees who volunteered to be models.
The real people that I put in my paintings add flavor to the pieces and give them personality. Every time I look at this painting, I'm reliving all those wonderful memories of Kennywood and the Fall Fantasy Parade that Tom, our daughters, and I have enjoyed over the years… and especially that long-ago Mother's Day weekend. I hope it brings up happy memories for you and your family as well.
If you'd like to share your own Kennywood Mother's Day memories, just drop me an email! I would love to hear about them.
P.S. – Though I don't always have the opportunity to respond to your emails, I want you to know I read and treasure every one of them, as I do you.
Make sure you are the first to know about all of my news, appearances and any "special deals" I am offering to my subscribers, by taking the time to sign up for my weekly newsletters now. CLICK HERE to sign up. You will also receive a FREE slideshow showing the step-by-step development of my painting, "Celebrating Time and Tradition at Macy's".