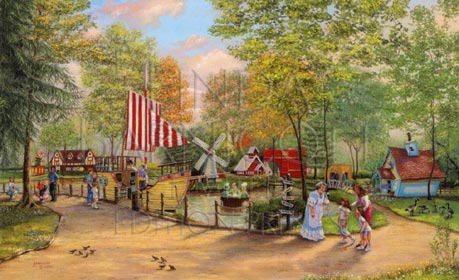 Happy Labor Day weekend… Where did the summer go? As I look ahead to the fall season, I'm remembering one of our family's favorite end-of-summer activities.
Every single year since our children were born, we would pack them up and drive all the way out to Ligonier to visit Story Book Forest. Because we were pretty broke when the kids were growing up, we would go in the afternoon because it was half price after 4:00.
Story Book Forest was a magical place. Around every bend there was a new nursery rhyme or fairy tale. The girls really loved the crackers from Little Red Riding Hood and the little pigs and chickens further along the way. But they were afraid of the Little Old Lady Who Lived in a Shoe – she was always so grumpy!
Did you know that Idlewild Park was owned by Kennywood? For their big anniversary year back in 2000, I created a painting, "Once Upon a Time in Story Book Forest." But with the size of the park and its winding paths, it was quite a challenge figuring out just the right spot to paint.
Fortunately, one cool thing about being an artist is getting access to the parks in winter to take photos. Winter is the prime time for photography at the parks because I can get unobstructed views without the leaves on the trees or the bushes filled out. To my surprise, when I showed up at Story Book Forest, instead of having to go around every corner to see each story, I could stand in one place and see the whole park!
I chose to paint the Pirate Ship for a few reasons; one, because the kids loved the lollipops, but mostly because it was my husband's favorite memory of him and his sister standing on the plank. Of course we had to take picture of our kids there every year too!
My favorite Story Book Forest memory of the girls involves the mushrooms they are sitting on in the painting. When they were little, they would try so hard to climb up these little rounded sculptures… then suddenly one year they could do it without even trying. My oldest told me, "It's a conspiracy – they're shrinking everything in this park!"
Back in those days, the park manager's mom played Mother Goose. I always thought about how cool it would be to have Mother Goose for my grandmother! The family stopping to talk to her in the painting are dear friends of ours who actually posed in our front yard. We told the little girls to pretend our pine tree was Mother Goose. It was fun posing all my "models."
It was also a blast designing the painting. I took a little artistic license and landscaped it to take advantage of parts of the park I could only see in my winter photos. For example, I turned around the sign that says "That-A-Way" so that you could see it in the painting, and I brought the Crooked House with the Crooked Mouse closer to the path.
CLICK HERE to get a better look at the painting on my website and to learn more about how you can purchase a limited edition print for your home!
P.S. – My granddaughter Aria turned one this week!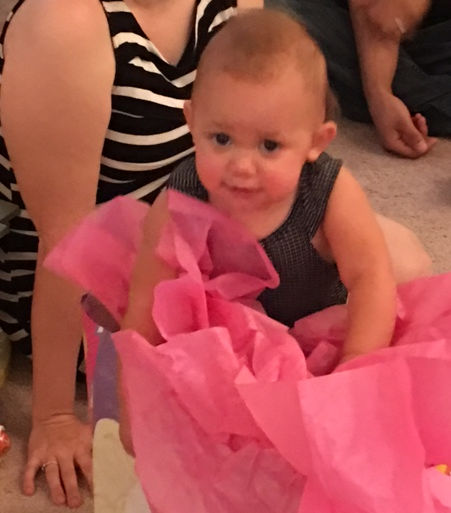 Make sure you are the first to know about all of my news, appearances and any "special deals" I am offering to my subscribers, by taking the time to sign up for my weekly newsletters now. CLICK HERE to sign up. You will also receive a FREE slideshow showing the step-by-step development of my painting, "Celebrating Time and Tradition at Macy's".