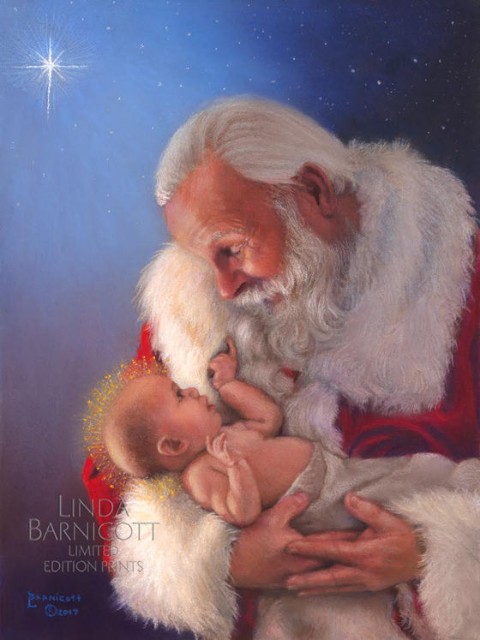 This has been quite a whirlwind week, in part because I'm still catching up after all my travels. But though it seems like I was on the road forever, I'm done with traveling for a while, and last week I was focused on completing this year's Jolly Old Elf Series companion print, "Santa and The Greatest Gift."
I'm very excited that we now have six paintings in the series, with four more paintings to go over the next two years. As I've planned the five-year series, I've experimented with some different concepts for the companion prints. But the fact that I chose this particular subject this year is actually a result of some impeccable timing.
Three years ago when I started the series, Tom and I had no idea that we would soon become grandparents. We didn't anticipate that our daughter would give birth to a baby of her own last year, and that her baby would happen to be born in September… perfect timing to use her for an ideal Santa-and-Baby pose.
My granddaughter was just the right age to be my model for Baby Jesus. At that time, she was starting to become more interactive with the world around her, and needless to say, she was fascinated with Santa.
First, I had to shoot some reference photos to plan out the painting. Unfortunately, let's just say that my photography skills leave something to be desired. (In fact, you might say they're pretty terrible!) With the lower light, the photo had turned out yellow and blurry. However, this is one of those challenges that shows what an artist is made of!
I decided to go for an "Old Masters" look but with my own spin on it. I added in the rich blues that I've used in the other companion prints, "Santa's Newest Reindeer" and Santa's Joyride It was important to me to make the Christmas Star an element of the composition, I really wanted it to glow and make a statement. And as I did in my painting of Mother Teresa, "The Heart of a Saint," my intention was to express the same deep eye-to-eye connection between the subjects of the painting that says "I love you." I tried to capture Santa's expression of profound joy as he cradles Baby Jesus in his arms.
The last important element in this painting was Jesus' golden crown of light. I was going for something delicate, yet regal. I had the ideal image of its ethereal glow in my mind, and I feel that I was able to communicate that image onto the canvas.
I hope I've created a painting for you that will bring you a sense of peace and joy. It will be available online next week, but you can preorder it by simply sending me an email at info@lindabarnicott.com or by calling 412-283-4072.
P.S. – The Fall Show season is getting started! Come see me at the Covered Bridge Festival in Washington County on September 16th and 17th from 10 a.m. to 5 p.m. This year I'll be on the paved path, not too far from the Ebenezer Bridge. It's a great show with a lot of fun activities and vendors. Come out and have a great time!
P.P.S. – If you have something special in mind that you would like me to bring for you, just contact me ahead of time at 412-283-4072, and I'll have it there.
Make sure you are the first to know about all of my news, appearances and any "special deals" I am offering to my subscribers, by taking the time to sign up for my weekly newsletters now. You will also receive a FREE slideshow showing the step-by-step development of my painting, "Celebrating Time and Tradition at Macy's".