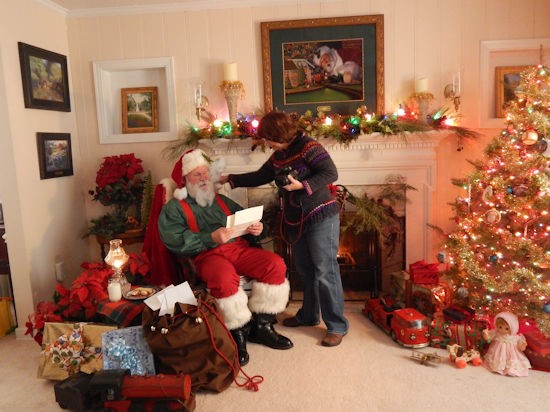 What do you think Santa does in the off-season? I'm betting he takes a relaxing tropical vacation somewhere to unwind after the holidays.
Though Santa's definitely enjoying his post-Christmas downtime, he did make an exception for me last weekend. He was kind enough to make a special trip from the North Pole to my house for our annual marathon Jolly Old Elf photo shoot.
(Santa may be a whiz at toymaking and overnight delivery, but those aren't his only talents… he's also a great model!)
First, I want to send out a big "Thank You" to everyone who helped us out with props for this year's new Santa paintings. We don't know yet which ones will be included in the final designs, but I truly appreciate the generosity of all of you who shared your treasures with us for a little while.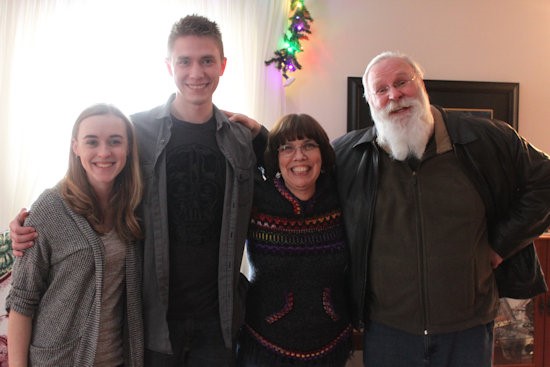 Meet our photography crew: There's me, of course, and Santa, who needs no introduction. Carolyn and Nathan, the young couple in the photo, are friends I met at the Holiday Market in Market Square several years ago. They have been helping me out with the Jolly Old Elf photo shoots every year since then. We make a great team – when you get the four of us together, the creative juices really start to flow!
Now all that remains is to see how inspiration strikes and where it will take me when I sit down to paint…
Once Santa's supermodel weekend was a wrap, I turned my attention to preparing for the Pittsburgh Travel Show at the David L Lawrence Convention Center this weekend. My van is packed up and ready to go to the Convention Center for set-up later today.
As their tag line says, "The World Awaits!"
So what's this hometown girl doing at a travel show? I represent Pittsburgh from an artist's point of view. My paintings are like a Pittsburgh travelogue – as you browse through my paintings, it's like taking a tour of all your favorite Pittsburgh landmarks.
The Pittsburgh Travel Show runs from Friday, January 26 through Sunday the 28th at the David L. Lawrence Convention Center. You can find me in Booth #129 next to the Hertz display. The hours are noon to 8 pm Friday, 10 to 8 pm Saturday, and 10 to 5 pm on Sunday.
In the middle of this cold, gray winter, this weekend is the perfect time to get out of the house and dream about faraway cities, tropical beaches, and exotic destinations. Maybe you'll even find a gift or two, decorate your home or office, and have some fun. Come on down and visit me and forget about the ice and snow for a while!