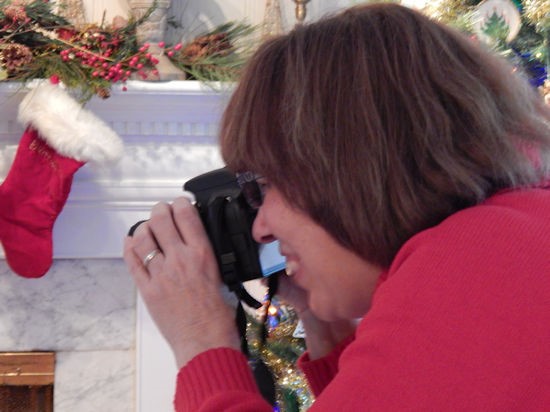 I've been sitting here in front of my computer this evening wondering what to write to you this week. Unfortunately, I'm having a really hard time keeping my mind on the written word – but I have a really good excuse.
I've been very distracted lately, deep in thought, seeking inspiration for my next painting in the Jolly Old Elf series. You see, this Saturday Santa will be coming to my house to pose for this year's paintings. But I still don't have all the props I need!
That's right – Santa's coming Saturday for his photo session, and I'm still short a few items. And thanks to my outstanding procrastination skills, I only have two days left to acquire them.
Can anyone help with this year's Jolly Old Elf Scavenger Hunt?
A quill pen would come in handy.
A small old-fashioned braided rug such as you might have in your entryway or kitchen.
I need one of those long sleeping caps like the ones worn in olden days. (Think Ebenezer Scrooge in A Christmas Carol or the dad in The Night Before Christmas.)
An old-fashioned milk bottle.
I could use a few more antique toys as well.
If you have any of these items, would be willing to let me borrow them for the photo session, and can drop them off at my studio on Friday, I would be most grateful!
Despite the cold and snow, these midwinter months are one of my favorite times of year. With fewer shows to worry about and lots of time indoors, it's typically one of my most creative periods. I also get to do a lot of brainstorming and planning about what I will be painting in the coming year.
But what I enjoy the most in January is the process of designing and setting up my next Jolly Old Elf painting. Santa is always so much fun to work with, and he's a great model… willing to try just about anything!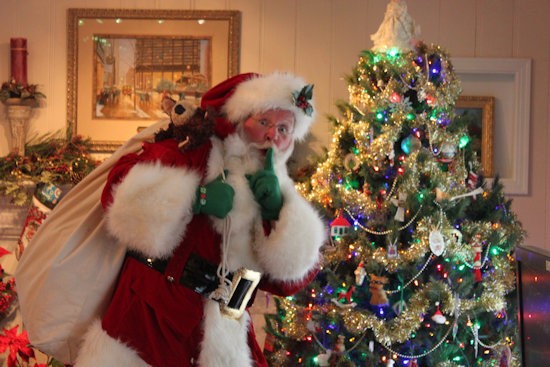 Then once this photo shoot weekend is over, hold onto your hats! I will be getting ready for my first show of 2018. And after 36 days out in the cold in Market Square during the holidays, I'm happy to be staying indoors this time.
The Pittsburgh Travel Show runs from Friday, January 26 through Sunday the 28th at the David L. Lawrence Convention Center. You can find me in Booth #129 next to the Hertz display. The hours are noon to 8 pm Friday, 10 to 8 pm Saturday, and 10 to 5 pm on Sunday.
It's my second year exhibiting at this show, providing a hometown presence in a world full of travel. After all, "there's no place like home!" And dreaming about sandy beaches and exotic locales is a great cure for cabin fever.
So stop by and see me – I'll have a booth full of art and giftware to decorate your home or office, to give to someone special, or just to spoil yourself a little.