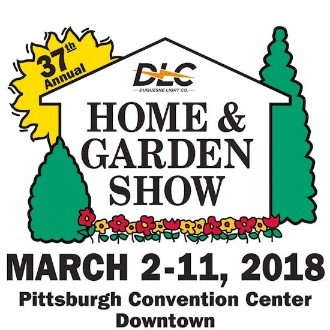 I just know that rodent is going to see his shadow tomorrow morning, and we're going to be stuck with winter a little while longer. But I've already seen the first sign of Spring – yesterday I received my vendor packet for the 2018 Pittsburgh Home and Garden Show!
I can hardly believe it, but this will be my 23rd year as an exhibitor.
It all started back in 1980 when I was just a newlywed. I had joined the South Hills Art League, and they asked me to do a demo at the show. That year the show was featuring a beautiful "Dream House" – a little yellow ranch house with a pretty pond, surrounded by lots of flowers. I remember happily standing there for hours with my pastels and easel, painting and fantasizing about what it would be like to live in that wonderful little house.
Years later, Tom and I were visiting the show when we ran into an art representative from the old Jerry Horn Gallery, who suggested I might want to become a vendor at the show. Back then it was held in the old Convention Center, where it occupied three whole floors. He gave me one piece of advice – even though there were galleries on the third floor, I should ask to have my booth on the second floor. Apparently many people never made it all the way up to the third floor… and if they did, they were too tired by then to care.
The very next year, I called the owner of the show and signed up. I was pleasantly surprised to find that he knew who I was right away, and that helped make my first experience very special. He even gave me a booth on the second floor like I asked… right between bathtubs and window treatments.
Did I mention that I was the only artist at the show back then? I remember putting balloons around my booth so people would notice me. Customers commented that visiting my booth was like having dessert after endless aisles of garage doors, windows, kitchen appliances, and of course bathtubs. That first year exceeded all my expectations… and now here we are getting ready for my 23rd time around!
The next four weeks will be action-packed…  once again organizing, ordering new product, and getting all my ducks in a row for those ten delightful days at the David L Lawrence Convention Center in Downtown Pittsburgh. You can find me in my usual spot, Booth #3146-8, at the beginning of the Art Aisle.
I've met so many special people over the years at this show… I can't wait for the smiles and great conversations with friends old and new. The Home and Garden Show is a great time to purchase my gifts and decor because I'll be fully stocked, especially during the opening weekend.
Save the dates – March 2 to March 11 – I have a feeling this is going to be the best show yet!
P.S. – In case you're wondering what Aria is up to these days, here she is wearing Grandma's gloves and hat. She loves to go out even on the coldest days, and sometimes you just have to go with what you have available.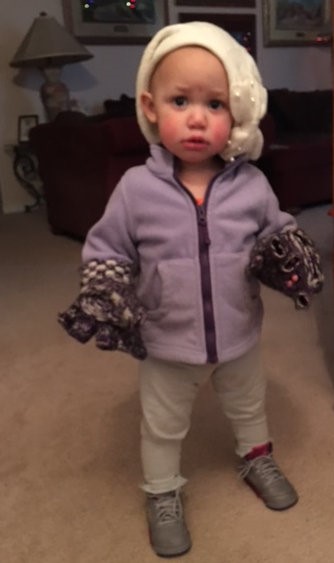 I also have very exciting news! Aria will soon be a Big Sister… to two new siblings! That's right – Alyssa and Jon are having twins, so we will be doubly blessed.
What that also means for Grandma is that I'll be painting like crazy this year to finish before the twins are born. Wish me luck!