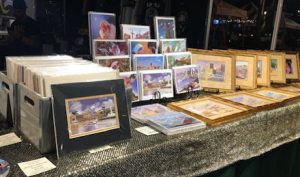 When I first started painting the nostalgic landmarks of Pittsburgh, I created prints of each of those original paintings. It's always gratifying when customers discover my early works, but did you know that many of those prints are also available in a different, very affordable format?
Somewhere along the line, I got the idea to make some of my prints into notecards.  They may be small in size, but they still serve as gentle reminders of days gone by.  From views overlooking the Golden Triangle from Mt. Washington to scenes of our city neighborhoods… Kaufmann's and Horne's, the old department stores we knew and loved… Kennywood's coasters and one-of-a-kind attractions like the Carousel and Noah's Ark… as well as our sports teams and our local universities… these are just a few of the notecards inspired by my paintings.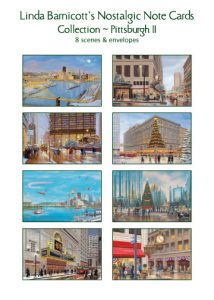 These mighty little cards have an impact far beyond their small size:
They've been sent to loved ones who've moved away to remind them of home.
Some folks send out my notecards – especially winter scenes and my Jolly Old Elf series – as their holiday cards to friends, family, and clients.  In fact, for 17 years, the Pittsburgh Chapter of the American Cancer Society used seasonal images that I donated to create their holiday fundraiser cards to help support cancer research and prevention – a program that raised over $750,000!
Many customers have purchased my notecards as corporate gifts and awards, and they also make great thank-you cards.
I have matted the cards so they'll fit into any 8 x 10 frame. I've also framed them like mini-prints – just perfect for those small, hard to decorate areas of your home.  Some customers use these little framed notecards to accent one of my larger prints and create a themed "memory wall" devoted to Kennywood fun, Pittsburgh sports, or views of the Point.  I love helping them pick out their favorites!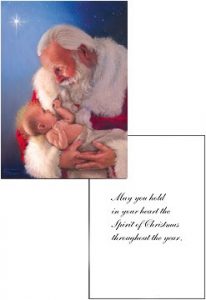 All cards (except for the Santa series) are blank inside, with the story of the painting printed on the back.
This is a great time to stock up for the holidays or as a little "thinking-of-you" gift for a special someone.  And if you would like to order a set of notecards or my Jolly Old Elf holiday cards this week, I will be happy to sign each one in gold on the bottom front for you.
Just click here to go directly to the Notecard/Holiday Card section on my website.