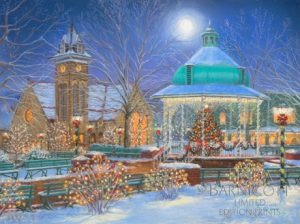 The weather forecast is for seasonal temperatures and sunny skies this weekend, so I hope you have plans to get outdoors!
Tom and I are excited – we're leaving today for our anniversary weekend trip to Geneva-on-the-Lake – but I'm still sad about missing out on Fort Ligonier Days this year (canceled due to the pandemic).  So while we'll have fun celebrating our 40th anniversary, I'm still a bit disappointed, as this would have been our 10th year at Fort Ligonier Days.
Ligonier has always been one of my very favorite places in Western Pennsylvania, and I had always dreamed of painting it.  Then one day in 2014, I was looking at old photos (so old they were taken with a film camera!) from way back when I first thought about someday painting this beautiful town. Before I knew it, I was putting the pastel board up on my easel, and I created "Silent Night in Ligonier."
I think this print perfectly captures the holiday ambiance of this old-fashioned town, sparkling with lights and freshly fallen snow. I even lit up the church for Christmas Eve services. My aim was to pull the viewer into the scene with warmth and saturated pure color.  Though a few things about the "Diamond" have changed in recent years (the bandstand area has been refurbished, etc.), I think my painting expresses the beauty and charm of historic Ligonier.
Like many of my prints, "Silent Night in Ligonier" is also available in a number of products, including a handmade metal ornament and a magnet.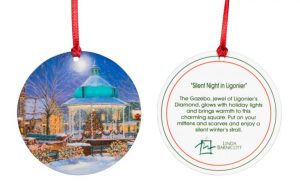 Because we won't be able to meet face-to-face at Fort Ligonier Days this weekend, I'm offering FREE SHIPPING on everything on my site (except those heavy candles!) from today until Sunday night at midnight. It's almost like being there… except you don't have to carry the art all around town with you and get it back to your car!
So take a look at my website and see if anything strikes your fancy!  I look forward to seeing you in person next time.