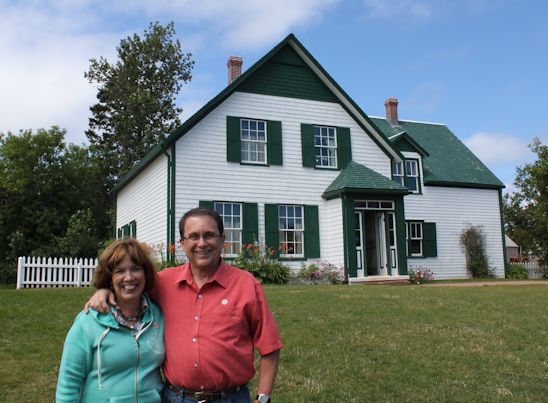 On our way home, but coming to you live from the road one more time…
Tom and I had quite the adventure in Canada, Vermont, and New York as we visited Prince Edward Island, New Brunswick, and Lake Champlain. It was delightful being back on PEI after 12 years. Back then, we were accompanied by our children. We went to see the brilliant musical "Anne of Green Gables" and then crossed the island to Cavendish to visit her home – or at least the home that Lucy Maud Montgomery created for Anne.
Returning 12 years later sans daughters, we retraced our steps. Though time has changed a few things, most of the island hasn't lost that quaint country feeling.
Panmure Lighthouse was not far from where we were staying. Of course, artists can't resist lighthouses, so I started a painting there. Though it was windy and cool, it felt so good to be painting out on the beach. A young girl saw me and started running down the beach to watch me paint. She was a lovely child who also loves to paint… I'm guessing she was about 9 years old. I advised her to follow her heart and keep painting if that is her true calling.

After leaving Prince Edward Island, we next visited Hopewell Rocks near Moncton, New Brunswick. We actually walked on the ocean floor at low tide! They informed us as we descended the stairs to the beach that we only had 20 minutes before the tide would be rolling in… but not to worry because they had an evacuation procedure!
Yesterday we headed to Lake Champlain, Vermont. All I remembered from our visit 12 years ago was that it was very pretty, and we ate by the water. Well, when we arrived in Burlington, all the college students were also arriving, and the place was swamped. We couldn't find a place to even get close to the water! We were getting a little claustrophobic, so we decided it was time to leave.
Our GPS sent us on a country road outside of town, and the next thing you know it told us to turn right and load onto the ferry… but we were in the woods! What a pleasant outcome after our disappointment! Only $14.00 to cross, and it took just 30 minutes to get us to Essex, New York – saving us about an hour of driving around the lake. We had such a great time watching the weather, as it was raining in some areas and sunny in others. The clouds were spectacular. We sat and watched the birds fly by and thought about how lucky we are.

I am finally relaxed and ready to come home to my family and my studio. I have so much to paint before the holiday season and so much more to share with you from our home in the 'Burgh.
Make sure you are the first to know about all of my news, appearances and any "special deals" I am offering to my subscribers, by taking the time to sign up for my weekly newsletters now. CLICK HERE to sign up. You will also receive a FREE slideshow showing the step-by-step development of my painting, "Celebrating Time and Tradition at Macy's".